Get the Best Cancer Care Possible
When facing cancer, you need a team that is as determined as you. At Nebraska Medicine, we bring more than 200 world-leading specialists and researchers together to transform the cancer experience.
Our team of experts span specialties in cancer care including medical oncology, surgical oncology, radiation oncology, oncology certified nurses, case managers, genetic counseling, social work, financial counseling, pharmacy, pathology, radiology, plastic surgery, nutritionists, rehabilitation specialists and more. Our providers are aligned together to treat specific cancer types offering exceptional care and expertise and many have specialty fellowships not found anywhere else in the region.
A New Location to Bring You Cancer Care Breakthroughs
We're revolutionizing cancer care, using your own genetic identity to create the most targeted care plan, and offering more lifesaving clinical trials and technology.
As part of our ongoing effort to provide you with the latest cancer treatments close to home, in June 2017 we opened the Fred & Pamela Buffett Cancer Center at Nebraska Medicine. It's the only National Cancer Institute (NCI)-designated cancer center in Nebraska. The NCI is an agency within the U.S. Department of Health and Human Services. Its mission is to lead our nation's research efforts to improve cancer prevention, detection, diagnosis and survivorship.
Regardless of which of our four locations you're being seen at, extraordinary care is just a short drive from home. All patients undergoing cancer treatment at Nebraska Medicine also have access to our 24/7 Infusion Center at the Fred & Pamela Buffett Cancer Center, which serves as both a treatment center and around-the-clock urgent-care-type facility for those battling cancer. A rare offering in the region.
Learn more about the cancers we treat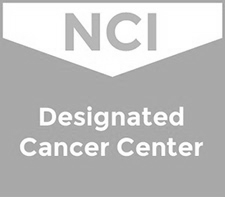 The National Cancer Institute
As the only National Cancer Institute-designated cancer center in Nebraska, the Fred & Pamela Buffett Cancer Center provides the best in science and clinical practice. Our goal is to become an NCI "Comprehensive Cancer Center," a top designation shared by only 45 centers in the U.S.

The National Comprehensive Cancer Network
We are a member of the NCCN, a non-profit alliance of 30 of the world's leading cancer centers devoted to patient care, research, and education, that is dedicated to improving and facilitating quality, effective, efficient, and accessible cancer care so that patients can live better lives.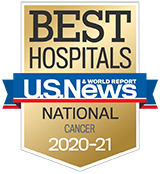 National Ranking in U.S. News & World Report for Cancer 2020 - 2021