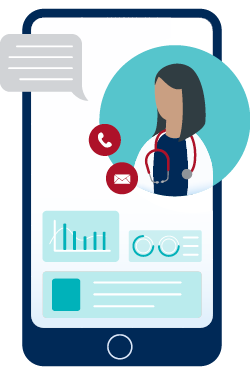 Our telehealth options connect you with local Nebraska Medicine board-certified health care providers whenever, and wherever, it's most convenient for you. 
Insurance companies now cover most telehealth visits, and enhanced safety measures are in place to protect your privacy. 
If you're a Nebraska Medicine patient
Download the Nebraska Medicine app
The Nebraska Medicine app makes it easy to manage your health care needs on the go, and now it's better than ever. 
New features include:
Easy access to all our telehealth services
Live wait times at our Immediate Care Clinics
The ability to easily switch to a family member's profile, with permission
If you prefer to use a computer, use the One Chart | Patient portal instead.
If you're not our patient yet
Give us a call at 800.922.0000, we'll get you set up
Or, if you're not ready, do a little more research with our Find a Doctor tool
Learn more about our telehealth options
On-Demand Video Visits

Sick and don't have time to stop into a clinic? Try an On-Demand Video Visit instead. 

View More

Telehealth FAQ

What is telehealth? Is the technology hard to use? Does it cost anything? Answers to these questions and more.

View More

Telehealth visit preparation

A checklist and corresponding instructions to help you prepare for an upcoming telehealth visit.

View More