Providing state-of-the-art eye care in a personalized setting.
Every year, the ophthalmology professionals with Nebraska Medicine treat more than 20,000 patients.
We focus on every aspect of eye care, from common problems such as cataracts, glaucoma, diabetic eye, eye infections and pink eye, to more complex vision challenges such as low vision. 
We are committed to your visual health care, anchored by the Stanley M. Truhlsen Eye Institute, Nebraska's state-of-the-art eye care facility. The institute offers the latest treatments and technology, as well as access to some of the leading eye-care specialists in the country.
What to expect
For a routine exam, you can expect a thorough evaluation of your ocular health. Your eyes are dilated, and the retina and optic nerve are evaluated. We screen for common eye-related diseases like glaucoma and macular degeneration. Eyeglass prescriptions are fine-tuned if necessary, and contact lens fittings are optional too. Sometimes additional testing may be necessary for glaucoma or retina conditions.
Why choose Nebraska Medicine
The Truhlsen Eye Institute is the only institute in the region with a full complement of ophthalmology subspecialists including cornea, retina, uveitis, neuro-ophthalmology, dry eye, glaucoma, ocular oncology and ocular plastic surgery.
Our optometrists provide comprehensive eye care, prescribing contact lenses, glasses and screenings for the development of more serious eye conditions. Both of our Optical Shop locations specialize in fitting all types of glasses and contacts. For patients with low vision due to glaucoma, macular degeneration, or other conditions, we offer services through the Weigel Williamson Center for Visual Rehabilitation.
This institute also features state-of-the-art diagnostic and surgical equipment, including adaptive optics, light adjustable lenses, laser-assisted cataract surgery and laser refractive surgery used for patient care. Numerous clinical trials are ongoing, studying therapies for both rare and common ophthalmology conditions.
Find an Eye Care Specialist
Search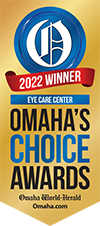 See what our award-winning team is all about.
Omaha Choice Awards 2022 Winner: Eye Care Center