Lung cancer is the number one cause of cancer deaths in both women and men. As with most cancers, lung cancer is curable when detected at an early stage, but unfortunately tumors often do not cause any symptoms until they have spread, either to lymph nodes or other parts of the body.
Studies show your chances for long-term survival improves when your medical team is dedicated to lung cancer treatment.
Nebraska Medicine's lung cancer team provides the most comprehensive cancer treatment options for lung cancer patients. This team typically consists of a thoracic surgeon, medical oncologist, thoracic radiologist radiation oncologist and pulmonologist, all with a devoted interest in the management of cancer. The team is supported by surgical, head and neck, orthopaedic and neurosurgical cancer specialists who provide additional expertise in the management of very complicated cases. Our goal is to provide you with a personalized care plan, from the discovery of a lung nodule or its larger cousin lung mass, to your test confirming you're cancer-free.
Our team has the tools, technology and the skills necessary for diagnosing and treating lung cancer with the most advanced and comprehensive spectrum of treatment options.
Why Seek Treatment for Lung Cancer at Nebraska Medicine:
Experts Dedicated to Lung Cancer
Nebraska Medicine has the only two thoracic surgical oncologists in Nebraska with practices dedicated to cancers of the chest.
Most Advanced Treatment Options
Our lung cancer team offers the most advanced and aggressive treatments available for treating lung cancer, both before and following surgery. Because of our experience and dedicated expertise, we treat some of the sickest and most complicated patients that other hospitals won't treat. Our team routinely performs surgery on Stage III lung cancer patients and has an active program for performing minimally invasive lobectomies and segmentectomies, using procedures like video-assisted thoracoscopic surgery (VATS). Patients undergoing cancer treatment at Nebraska Medicine also have access to our 24/7 Infusion Center at the Fred & Pamela Buffett Cancer Center, which serves as both a treatment center and 24/7 urgent-care-type facility. A rare offering in the region.
Lung Screening Options for Early Diagnosis
Lung cancer is the leading cause of cancer-related death in the United States. If lung cancer is detected at an early state, it may be more likely to be cured. Lung cancer screening is a low-dose computed tomography (CT) scan of the chest area to look for abnormalities. Chest X-rays do not qualify as an acceptable screening option.
The Most Advanced Diagnostic Techniques
Our lung cancer team uses a new minimally invasive biopsy technique called electromagnet navigation bronchoscopy – a computer-guided system allowing our doctors to take multiple biopsies and determine immediately if they are cancerous. The biopsies are large enough to allow for mutation analysis and the development of customized chemotherapy. With this new technique, therapy can be started the very next day as opposed to a week or two later.
At the time of the diagnosis, our doctors can also perform an endobronchial ultrasound, a procedure that can be performed during the bronchoscopy to stage the lung cancer. This procedure allows our doctors to view regions of the lungs and surrounding chest area that have traditionally required more invasive surgical procedures to evaluate. This allows our doctors to perform surgery to remove the cancer immediately, if indicated.
If You Still Smoke, We'll Help you Quit for Good
Our lung cancer team includes a certified tobacco treatment specialist who provides one-on-one smoking cessation counseling, tailoring the program to your individual needs and past experiences. Studies show that the combination of counseling and medication provides the most effective results.
Clinical Trial Opportunities
Patients receiving care at Nebraska Medicine may have the opportunity to participate in lung cancer clinical trials at the University of Nebraska Medical Center as part of their treatment programs. Clinical trials give you the opportunity to try the most current and advanced treatment options before they are available to the rest of the public.
Addressing Your Personal Care Needs
Addressing a patient's physical, educational, emotional and spiritual needs are important aspects of providing a more complete and holistic approach to care. A host of amenities and supportive services are available to help meet these needs. This includes personal care services such as wigs, wig fittings, prosthetic and bra fittings, yoga, massage therapy, skin care and make-up lessons specifically geared for people with or recovering from cancer are also provided in a private setting.
Cancer Support Services
Finding out that you have cancer can be a very emotional and difficult time. You will likely have many questions and issues to work through. We will be with you every step of the way. Nebraska Medicine offers a host of cancer support services to help you with your physical, emotional, educational and financial needs.
We're Here for you Long After Your Treatment
Our Survivorship Clinic is designed to help you deal with the emotional and physical challenges cancer can leave behind such as fear of recurrence, physical and medical long-term side effects and helping you return to a normal life again. It will also help you transition back into the care of your primary care physician.
Accreditations and Awards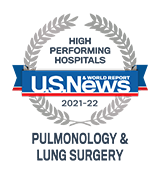 ---
Nebraska Medicine has received the highest procedural ranking possible by U.S. News & World Report in eight procedures including lung cancer surgery.