National Comprehensive Cancer Network (NCCN)
We are a member of the NCCN, a non-profit alliance of 30 of the world's leading cancer centers devoted to patient care, research, and education, that is dedicated to improving and facilitating quality, effective, efficient, and accessible cancer care so that patients can live better lives.
---

National Cancer Institute (NCI) Designation
This designation recognizes that Nebraska Medicine offers patients options for prevention, diagnosis and treatment and access to clinical trials not available elsewhere.
---

Quality Oncology Practice Initiative
Nebraska Medicine has been recognized by the Quality Oncology Practice Initiative (QOPI®) Certification Program, an affiliate of the American Society of Clinical Oncology. The QOPI® Certification Program (QCP™) certifies oncology practices that meet nationally recognized standards for cancer care. This certification reaffirms our commitment to providing patients with high quality cancer care.
---

American College of Surgeons Commission on Cancer
This accreditation ensures that patients will receive comprehensive, state-of-the-art services provided by a multi-specialty team coordinating all aspects of cancer care.
---

Foundation for the Accreditation of Cellular Therapy (FACT)
The FACT Accreditation demonstrates our commitment to quality in cellular therapy and blood and marrow transplantation and verifies that our transplant program has met rigorous international standards.
---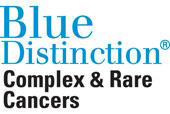 Blue Distinction Center
First hospital in the state to receive the Blue Cross and Blue Shield of Nebraska - Blue Distinction Center for Complex and Rare Cancers.
     
  
U.S. News & World Report
The Nebraska Medical Center has been named among the nation's best by U.S. News & World Report. We've been rated:
Nationally in cancer from 2012 through 2014, as well as in 2019-2020
As a high-performing hospital in cancer in the 2011, 2016, and 2018-2019, 2020-2022
A high performing hospital in colon cancer surgery in the 2019-2020, 2021-2022
According to Newsweek's list of "Top Cancer Doctors 2015," 75 percent of the top cancer doctors in the state are at Nebraska Medicine.