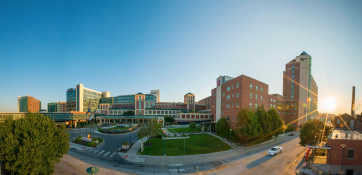 When my husband was transferred to Nebraska Medicine, I was nervous about the size of the hospital. I was worried he would be just another number.
It wasn't long until my fears were put to ease. Two of the most memorable moments at Nebraska Medicine were my son's 7th birthday party and the day my husband passed away. Two very different days in my life, but they both were treated with love, care and concern.
My son had two requests for his 7th birthday. The first was to get a Hatchimal toy and the second was to have his dad (who at the time was inpatient and on the organ transplant waiting list) at his birthday party. I had to make this happen for him, he deserved it.
Without question, Robyn, our transplant coordinator, booked a conference room for us. When the day came, we weren't sure if my husband was going to be able to make it, but with the help of his nurses and the transplant team, he was there. I wish you could have seen the look on my son's face - it was priceless. Not only did the transplant team help get Steve to the party, they bought my son a Hatchimal. His day was made, his wishes came true. All because some really special people took time out of their day to allow us to be a family - in one room - forgetting just for a moment that my husband was sick and we were in a hospital. It was the last time my children saw their dad alive - smiling and doing what he did best, being a dad.
The day my husband passed away is a day I will never forget, ever. This was unexpected, it wasn't even a thought in anyone's head that it was going to happen.
He had undergone two multi-organ transplants, as the organs rejected the first time. Carmen was his nurse that morning. We loved Carmen, she was our angel that day. She knew something wasn't right and acted on it. From the moment they called me to tell me they needed to take him to surgery, the care they had for us became apparent.
Ellen put her phone on speaker so I could tell Steve I loved him - that this would be easy peasy and I'd see him soon. I made it to see him before surgery and I could look him in the eyes and tell him these things. Unfortunately that was the last time I saw his handsome blue eyes.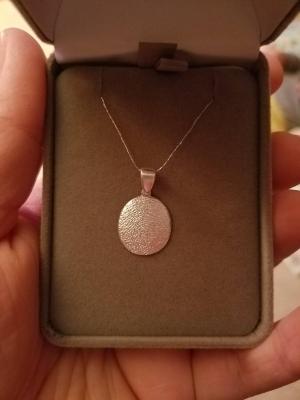 When his transplant surgeon, Dr. Vargas, came to tell me the tragic news, he was calm, he was caring, he was honest. They were able to stabilize Steve and bring him back to his room, where we would be able to take some time and be with him before we said our goodbyes. I've never experienced anything like this. I was scared, I was heartbroken and I didn't want to let him go, but I was so thankful to be where we were.
At Nebraska Medicine, the staff was indescribable. They continued to care for him as if he was going to live forever even though that day would be his last. Carmen suctioned his mouth, Stacey continued his medications and Chad, and several of his staff members, were there to support each other and make sure Steve's needs were met.
Ellen, Stacey and Carmen came in to take his fingerprint. I was unsure at first what they were doing but they explained it was so I could have a keepsake made. We decided his ring finger would be most meaningful. When this keepsake arrived in the mail, I was so grateful the staff took the time to think of something so meaningful during such a difficult time. It is something I will treasure for the rest of my life. Just like the relationships that were made during my husband's stay at Nebraska Medicine.
Yes, it's a big hospital, but with a big heart. I wouldn't have wanted to be anywhere else. It doesn't stop there. Three Surgical Intensive Care Unit (SICU) nurses came to Steve's funeral. My broken heart swelled. These nurses had cared for my husband and they still cared for him.
Thank you, Nebraska Medicine, for the extraordinary care.