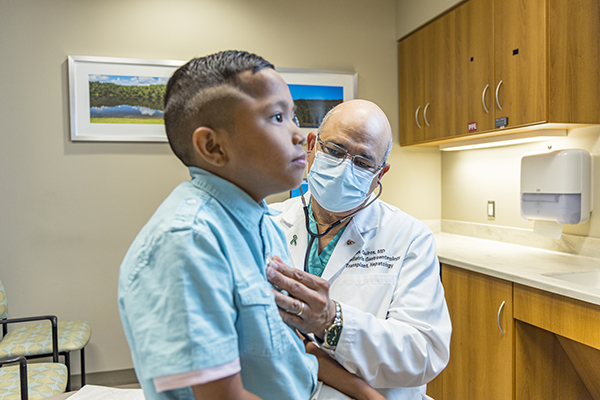 Has your child been diagnosed with advanced intestinal disease and needs to be given nutrition through their veins? Is your child suffering from complications related to IV nutrition, such as central line infections, liver disease, loss of vascular access, or the inability to tolerate any oral nutrition leading to severe dehydration? 
Our intestinal failure team is here to help.  
If your physician has told you that your child needs to be evaluated for intestinal transplant, the first step is to submit a referral to our Transplant Program. We accept referrals from patients, primary care physicians, surgeons, or gastroenterology specialists.  
After the referral process is complete, we will begin to get to know your child through the pre-transplant call from one of our trained pediatric nurse coordinators. Learn more about the next steps after referral. 
What to expect during your child's first visit 
The initial evaluation usually takes four to five days. During the visit, your child will have a full schedule of labs, diagnostic testing, and consultations. You will meet with all members of the transplant team. 
After your child's initial evaluation, you will return home and our team will meet and discuss your child's case. You will receive a call from our nurse coordinators with the outcome of the meeting. If your child is ready, we will place them on a transplant waiting list. We will communicate all decisions to your local team so we can all work together. If your child is listed, you and your child will remain at home until an organ offer becomes available. You do not need to wait in Omaha while your child is listed for transplant. 
Why you should choose Nebraska Medicine 
Our Transplant Program has a history of top performance. We are the largest pediatric provider for intestinal transplant therapy in the country. We continuously lead the country in the number of adult and pediatric intestinal transplants. Additionally, we are one of a few facilities with expertise in intestinal failure—and one of the busiest programs in the United States. Innovation, solid outcomes, and high patient survival rates have distinguished our center as a leader in intestinal failure.