Problems of the vascular system are common and are often serious. Peripheral Vascular Disease (PVD) refers to diseases of the circulatory system, and includes conditions like peripheral artery disease, carotid artery disease, aneurysms and varicose veins.
The Nebraska Medicine vascular team is devoted to diagnosing, treating and managing your circulatory system disease with the most advanced medical equipment, procedures and nationally recognized expertise. As the regional leader, we use a collaborative approach to care bringing together experienced specialists from cardiology, interventional radiology, vascular surgery, neurosurgery, and cardiothoracic surgery who have one goal in mind: treating and healing you.
While each physician brings a unique set of skills, they work together to care for your individual needs and provide you with the most comprehensive care even for the most complex cases.
Arterial System Diseases Treated:
Aortic Aneurysm

Abdominal Aortic Aneurysm
Thoracic Aneurysm
Complex Aortic Aneurysm

Arterial Emboli / Occlusion
Arterial Stenosis - Upper and Lower Extremity
Arterial Trauma
Arteriovenous Malformations
Carotid Artery Disease (CAD, Atherosclerosis)
Celiac Artery Compression
Mesenteric Ischemia
Peripheral Artery Disease - PAD

Critical Limb Ischemia - CLI
Poor circulation

Renal Artery Stenosis
Vasculitis
Venous System Diseases Treated:
Chronic Venous Insufficiency
Chronic Venous Stasis
Klippel-Trenaunay syndrome
May-Thurner syndrome
Post Thrombotic Syndrome
Thoracic outlet syndrome
Vena Cava Filter Placement/Removal
Additional Vascular Services:
Dialysis Access (for peritoneal and hemodialysis)
Lymphedema Therapy
Management of Acute and Chronic Vascular Wounds
Microvascular Disease Treatment

Raynaud's Disease
Buerger's Disease
Blue Toe Syndrome
Acrocyanosis
Thoracic Outlet Syndrome Treatment
Service Options
Come to Nebraska Medicine because we offer
Advanced Diagnostic Tools
As a regional leader with a nationally recognized team, our vascular services include an outpatient clinic with a full array of advanced medical equipment and state-of-the-art angiography suites. We are able to diagnose and evaluate a full range of conditions using non-invasive vascular laboratory studies using the most advanced tools to quickly and accurately diagnose your specific condition. Our non-invasive vascular laboratories provide a full range of studies including carotid, venous and arterial exam, angiography, intravascular ultrasonography and transcranial doppler.
Once your diagnosis is confirmed, rest assured that our skilled and caring vascular team can treat and manage a variety of vascular and circulatory conditions including all types of aneurysms, carotid artery disease, peripheral vascular disease, Raynaud's Phenomenon, renal vascular disease, stroke and varicose veins.
Innovative Treatments
When you come to Nebraska Medicine, you will receive world-class care in our state-of-the art Heart and Vascular Center that includes a hybrid operating room that provides the technology of a catheterization lab or interventional radiology suite and allows our doctors to also perform open surgery. Our specialists offer experience with a full scope of treatment options ranging from the latest minimally invasive techniques to standard open surgical procedures. These procedures include the following and more:
Angioplasty/Stenting
Aortobifemoral Bypass
Arterial Bypass
Atherectomy
Carotid Endarterectomy
Dialysis Access
Endovascular Stent Graft Repair
Limb Salvage
Vein Surgery and Ablation
Specialists in Helping You Heal
As part of our comprehensive approach, our Center for Wound Healing has certified advanced practice nurses who can treat your wound using hyperbaric oxygen therapy (HB0). Plastic and reconstructive surgeons specializing in complex reconstructive surgery are available as well to help heal wounds through the use of grafts, flaps and microsurgery. Lymphedema therapy is also available for low grade to advanced and chronic cases.
Collaborative and Comprehensive Approach to Vascular Care
The vascular services program brings together experienced specialists from cardiology, interventional radiology, vascular surgery, neurosurgery, and cardiothoracic surgery using leading edge research and technology. While each physician brings a unique set of skills, they work together with one goal in mind: treating and healing you.
Accreditations and Awards
Nebraska Medicine received the highest procedural ranking possible by U.S. News & World Report in eight procedures including Abdominal Aortic Aneurysm Repair.  
---
The vascular services program at Nebraska Medicine is accredited by the Intersocietal Accreditation Commission (IAC). The IAC programs for accreditation are dedicated to ensuring quality patient care and promoting health care and all support one common mission: Improving health care through accreditation®.
---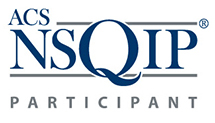 Nebraska Medicine is a participant in the American College of Surgeons National Surgical Quality Improvement Program® (ACS NSQIP®) is the first nationally validated, risk-adjusted, outcomes-based program to measure and improve the quality of surgical care. ACS NSQIP is designed to help hospitals improve surgical care through the use of risk-adjusted clinical data. The program will place hospitals in the national lead in providing high-quality, effective surgical care.
---
Nebraska Medicine is a member of the Vascular Quality Initiative (VQI) . VQI is a collaborative of regional quality groups collecting and analyzing data in an effort to improve patient care.