As nationally recognized leaders in vascular surgery, we are providing the most advanced, complex and life-saving surgical treatments for patients with vascular disease. Our Complex Aortic program hosts a multidisciplinary team of experts including advanced cardiac imaging, cardiothoracic surgery, cardiology, cardiac anesthesia, neurosurgery, interventional radiology, and vascular surgery. Each team member brings a unique set of skills while working together with one goal in mind: treating and healing you.
Conditions
Infrarenal Abdominal Aortic Aneurysm

Thoracic Aortic Aneurysm

Complex Aortic Aneurysm
Treatments
Lifestyle Changes

Medication

Regular Follow Ups and Tests to Monitor

Surgical Repair:

Carotid stent - an endovascular procedure in which a stent is deployed within the carotid artery to prevent a stroke. This procedure is used on high-risk patients for which carotid endarterectomy is considered too risky.

Fenestrated graft - an innovative treatment offered at Nebraska Medicine. The is a minimally invasive surgery makes repairing aneurysms located where arteries branch off to supply blood to the kidneys, easier on you.
Come to Nebraska Medicine to be Treated for your Aortic Aneurysm because of our:
Expertise
A dedicated, nationally recognized team of clinicians and researchers leading the way and educating the next generation.
Advanced Diagnostic Tools
Our Vascular Center offers an outpatient clinic with a full array of advanced medical equipment.
Non-invasive Vascular Laboratories
They provide a full range of studies including carotid, venous and arterial exam, angiography, intravascular ultrasonography and transcranial doppler, meaning we can diagnose you quickly and correctly.
Once your diagnosis is confirmed, rest assured that our skilled and caring vascular team can treat and manage a variety of vascular and circulatory conditions including all types of aneurysms, carotid artery disease, peripheral vascular disease, Raynaud's Phenomenon, renal vascular disease, stroke and varicose veins.
We treat aortic aneurysms both the traditional way - by making an incision near the aortic aneurysm - or using a minimally invasive technique that is a procedure done through a small incision in the groin to place a stent inside your abdominal aorta.
The minimally invasive option has a quicker recovery time and shorter hospital stay than the open surgical repair. A patient will need to undergo a CT angiogram and be seen by a surgeon to determine the most appropriate type of surgery.
Accreditations and Awards
The vascular services program at Nebraska Medicine is accredited by the Intersocietal Accreditation Commission (IAC).
---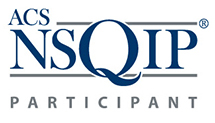 Nebraska Medicine is a participant in the American College of Surgeons National Surgical Quality Improvement Program® (ACS NSQIP®) is the first nationally validated, risk-adjusted, outcomes-based program to measure and improve the quality of surgical care. ACS NSQIP is designed to help hospitals improve surgical care through the use of risk-adjusted clinical data. The program will place hospitals in the national lead in providing high-quality, effective surgical care.
---
Nebraska Medicine is a member of the Vascular Quality Initiative (VQI) is a collaborative of regional quality groups collecting and analyzing data in an effort to improve patient care.