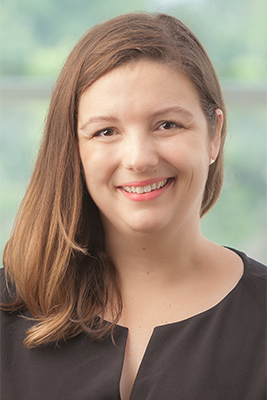 When SueAnn was diagnosed with breast cancer, all she could think about was survival. "I want to have a double mastectomy," she remembers telling her doctor. "I don't want to have to mess with this again."
But as she collected more information and listened to the advice of her doctors, it became clear that a double mastectomy was not necessarily the best option. In the end, SueAnn opted for oncoplastic surgery, a procedure that combines traditional lumpectomy with plastic surgery techniques. SueAnn made the trip from Sioux City, Iowa to Omaha, Nebraska, so she could have the surgery performed by Jessica Maxwell, MD, oncoplastic surgeon at Nebraska Medicine and the only fellowship-trained surgeon in this area that is trained to perform this unique procedure.
Once the tumor was removed, Dr. Maxwell reshaped the breast to prevent contour deformities and realigned the nipple and the areola to provide the most visually pleasing outcome. A balancing procedure was also performed on the other breast to provide symmetry.
Cancer Experts are Here!
Nebraska Medicine offers breast cancer expertise at several locations. Visit 
NebraskaMed.com/Breast
 or call 402.559.5600.
"With all the advances in breast cancer care, women are living for many years after a breast cancer diagnosis," says Dr. Maxwell. "But after treatment is over, the results of surgery can often leave women feeling disfigured and negative about their bodies and become a constant reminder of the cancer. Today, we are looking more at survivorship and how to best help women not only survive but thrive. Oncoplastic surgery returns the breasts to a healthy appearance and can lead to better quality of life because it improves self-confidence, self-esteem and comfort with intimacy."
"This gave me an outcome better than I could have ever imagined," says SueAnn. "My breasts look nearly the same as they did before the surgery. And, it only required one surgery."
"Studies comparing traditional breast conservation and oncoplastic surgery have shown comparable outcomes in terms of safety and results," notes Dr. Maxwell. "However, this procedure allows us to treat the whole patient by preventing disfigurement. It is much easier to prevent scarring and divoting of the breasts at the same time a lumpectomy is performed than to try to fix it later."
While many women diagnosed with breast cancer initially assume they will need a single or double mastectomy, that is no longer the case. Many patients are candidates for breast conservation or lumpectomy, which involves preserving the majority of the breast by removing the tumor only. Lumpectomy combined with radiation has similar outcomes as mastectomies in women who qualify for this option. When determining which surgery is needed, your doctor will consider the size of the lump in relation to the size of the breast and the type of breast cancer, says Dr. Maxwell. Oncoplastic surgery is ideal for women with moderate to large sized breasts who require a large volume of breast tissue removed, but can be an option for many women.
"Most women don't know there's an alternative," says Dr. Maxwell.
"Dr. Maxwell was genuinely concerned with my physical appearance after surgery and the emotional impact this would have on me later down the road," says SueAnn. "She was caring, compassionate and genuine. She had my full trust from the beginning."