For 45-year-old athletic trainer and bodybuilder Rene Martinez, a stroke was one of the last things on his mind. Rene kept meticulous track of his health, from his weight and diet to his daily exercise regimen.
It was the summer of 2018, and Rene was preparing for his next bodybuilding competition, an international competition in Kansas City, Missouri. With several titles under his belt from Nebraska and Kansas City events, Martinez was hoping to add an international title to his record.
But it was Saturday, and Rene was taking the day off. He and his wife, Jenny, were planning to take their 7-year-old son boating. When Rene awoke that morning, however, he didn't feel right.
"It was the weirdest and scariest feeling ever," he recalls. "I tried to speak, but nothing would come out."
"He was trying to talk to me, but I couldn't understand him," Jenny says. "I told him to turn and face me and that's when I realized he was having a stroke. His face was droopy, and he couldn't move one of his arms. I told him we needed to go to the emergency room immediately."
Jenny, who was eight months pregnant with their second child, grabbed their son and led Rene to the car. They headed to Faith Regional Health Services in Norfolk, Nebraska, less than a mile away.
A CT scan was done at Faith Regional followed by a telemedicine stroke consultation with the stroke team at Nebraska Medical Center.
"There were no visible occlusions in the CT scan that would indicate a stroke, so I recommended he be transferred here so we could do additional testing," says Marco Gonzalez, MD, the neurologist on call for the stroke team that day.
When Rene arrived at Nebraska Medical Center, a whole team of doctors and nurses were waiting for him in the Emergency Department.
"I felt so much better once we got there," recalls Rene. "When I saw that team waiting for us and how quickly they went to work on me, I knew we were in good hands."
Additional testing was done, but still no signs of blood clots in the large vessels were found. Dr. Gonzalez says he began to suspect patent foramen ovale (PFO), a congenital hole in the heart that doesn't close properly after birth. This condition is present in about 25% of the population. Most live with it and don't know it. While most people never require treatment, the condition can put people at higher risk for stroke, which occurs in a small percentage of patients.
An echocardiogram confirmed Dr. Gonzalez's suspicions. Rene had a PFO. "When we have a young patient who has a stroke and doesn't have any other risk factors, and we've done all of the standard testing and still can't find a source, we start looking at PFO as the cause," says Dr. Gonzalez.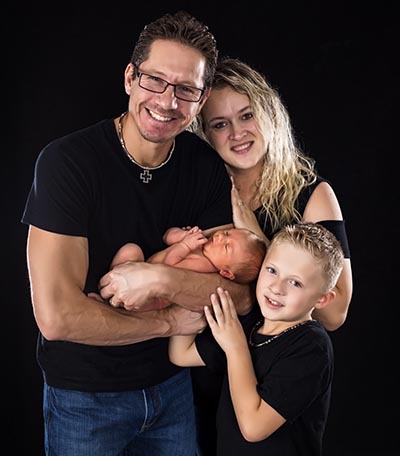 Individuals with a PFO who have a stroke are at significant risk of having a second stroke. Nebraska Medical Center was involved in a large clinical trial that revealed a significant reduction of recurrent strokes when the hole is closed. After discussing with Rene and Jenny, Rene was started on aspirin to eliminate the risk of blood clots, and a PFO closure was scheduled with Andrew Goldsweig, MD, interventional cardiologist.
Dr. Goldsweig is part of an interdisciplinary clinic of neurologists, adult cardiologists and pediatric cardiologists at Nebraska Medical Center that specializes in treating patients with PFOs. He is also a member of a group within the Society for Cardiovascular Angiography and Intervention that is writing the guidelines for treating PFO patients.
PFO closure is an outpatient procedure performed by inserting a tiny tube into a large vein in the groin and threading the tube to the heart. The tube holds a small clam shell device that is used to close the hole and remains in the heart permanently. "Because of our involvement in these trials, we generally perform more of these procedures than other hospitals in the area," says Dr. Goldsweig.
Rene has been doing quite well since the surgery and is pleased with his progress. He returned to competition mode the following year and competed in a St. Louis, Missouri, international competition last fall, less than a year after his stroke, placing third. "I felt good about that considering what I had been through," says Rene. "I felt great before the stroke, and I feel even better now."
With a 9-year-old and a 21-monthold by her side, Jenny says she is very thankful that they made it to the Nebraska Medical Center. "Dr. Goldsweig and Dr. Gonzalez were both so helpful and encouraging," she says. "They explained things well, answered questions and were very attentive. Aside from a slight speech problem when he tries to talk too quickly, you'd never know Rene even had a stroke."
"Rene is testament to what happens when you come to a comprehensive stroke center," says Dr. Gonzalez. "We have all the knowledge, expertise and tools in place to follow the right protocols and provide the right care to achieve the best outcome."
With stroke and heart attack, seconds matter
Emergency situations like strokes and heart attacks don't stop during a pandemic, and getting care is critical for recovery. Our team has safety measures in place to protect you from infection. The risks of not treating a heart attack or stroke are greater than contracting COVID-19. If you or someone you know is having a stroke or heart attack, call 911 right away. Visit NebraskaMed.com/Stroke and learn more about our Certified Comprehensive Stroke Center and why this designation matters to you and your loved one.