When it comes to strokes, seconds matter. Rochelle Swanson is living proof that the faster you get help, the better the outcome.
On Christmas Day 2020, Rochelle Swanson swung by her storage unit on her way to work to pick up a Christmas gift tucked away for her husband. As she picked the cooler up, something felt wrong. All of a sudden, her left arm went completely limp. She dropped the cooler and tried to pick it up again.
A neuroscience nurse at Methodist Hospital, Swanson didn't want to be late for her shift. She thought, why am I so slow? This is weird. She ran to her car's side mirror and tried to smile, but her mouth drooped to one side. That's when she realized – she was having a stroke.
Swanson called her husband immediately. After trying to speak numerous times, he still couldn't understand her, so she switched to one-word attempts. "My thoughts were organized, but my speech was unrecognizable, even to myself," she says.
"Stroke!" she said through the phone.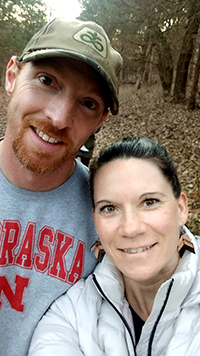 Her husband caught on, saying, "You're having a stroke? Where?"
"Storage!" came her reply.
He got there quickly. But in the heat of the moment, he couldn't remember the code to get into the storage unit. So he jumped the 10-foot fence to get to her. Swanson had called 911 to tell them the exact time the stroke happened. As they drove to Methodist, Swanson called ahead to let them know they were coming. She had to dial the number with her right hand, as her left was not responding.
Swanson had never had a stroke before. She played two sports in high school and college, and she also runs half-marathons. She's only 39 years old, underscoring the fact that strokes can happen to anyone.
"Working as a neuro nurse, I see the effects of stroke all the time," says Swanson. "A lot of our stroke patients have to go to acute rehab or skilled facilities to get their strength back and retrain their brains."
In Swanson's case, her quick reaction led to a great outcome. After arriving at Methodist, she received tissue plasminogen activator (tPA), a medication that breaks up the blood clot in a patient's brain, allowing blood to flow normally.
The clot was in one of the big vessels in her brain, the middle cerebral artery. The team transferred her to Nebraska Medical Center for a thrombectomy, a procedure to remove a blood clot from a blood vessel. This minimally invasive procedure involves an endovascular neurosurgeon inserting a catheter into a patient's leg artery, guiding the catheter up the artery to the brain, and using a mesh basket to remove the blood clot. Luckily, the clot-busting drugs given to her at Methodist had done the trick, and her symptoms subsided. She didn't need the procedure due to the team's fast actions.
"There's great collaboration between Methodist and Nebraska Medicine," Swanson says. "We'll send scans to each other or evaluate if someone is a good candidate for certain treatments. The two stroke programs have excellent communication."
Because 25% or more of strokes are linked to the heart, Nebraska Medicine cardiology and neurology specialists worked together on Swanson's care. After her stroke, Swanson's treatment was coordinated between adult cardiologist Andrew Goldsweig, MD, MS, and neurologist Michael Pichler, MD. Dr. Pichler says, "A lot of times, doctors discuss things through the electronic medical record. The collaboration we have is unique because we see patients together and discuss face-to-face."
During evaluation, the team identified what likely caused the clot – a congenital hole in the heart called patent foramen ovale (PFO). As strokes can reoccur with PFOs, the team decided to perform PFO closure to prevent future strokes from happening.
"While 20% or more of people have a PFO, not every PFO is medically significant," says Dr. Goldsweig. "Higher pressure on one side can push the PFO open, which can cause a stroke. So when you bear down to have a bowel movement, cough, have a baby or lift a Christmas present, you can push that flap open." Dr. Goldsweig successfully closed the tiny hole in Swanson's heart on Feb. 10 with a minimally invasive, catheter-cased procedure.
SEEK HELP IMMEDIATELY
Seconds matter when it comes to stroke. "Essentially, brain cells are dying from lack of blood flow and oxygen," explains Dr. Pichler. "So for every second that blood flow and oxygen don't arrive, that means brain tissue gets damaged. The faster you can restore blood flow, the better the outcome."
Swanson's quick response likely influenced how quickly she recovered. "It was terrific treating a neuro nurse," says Dr. Pichler. "Rochelle did so well because she knew exactly what to do."
"It was a Christmas miracle," says Swanson. "I feel like it's my second chance at life."
Learn more about our comprehensive stroke program at NebraskaMed.com/Stroke.