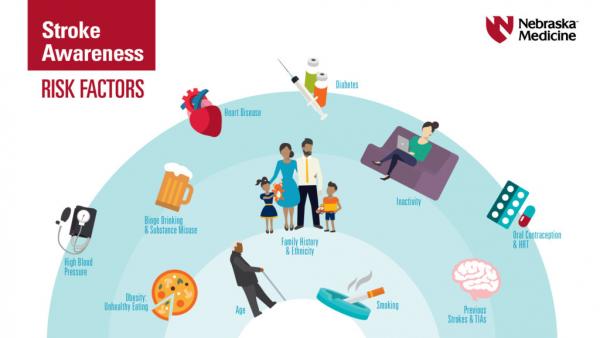 With Stroke, Time is of the Essence
Seconds matter when it comes to stroke.
Without quick and accurate diagnosis and treatment, the effects can be disabling and long-lasting. Approximately two million of your brain cells die every minute during a stroke. Therefore, recognizing the symptoms and getting medical attention F.A.S.T. can save your life or that of a loved one.
If you or a loved one suffers a stroke, you want to be at the right place at the right times.
Nebraska Medicine's Stroke & Neurovascular Center provides around-the-clock care of stroke patients using a well-defined, systematic approach to care and treatment to achieve optimal results.
When you come to Nebraska Medicine, you can be sure you will receive the best care available from a highly skilled and dedicated stroke team, providing you or your loved one the best chance for a full recovery.
Choose Nebraska Medicine Because We:
Are the First Nationally Certified Primary Stroke Center in Nebraska
You'll get immediate and specialized care, which is crucial in treating acute stroke patients. It is important to remember 'time is brain" and every second counts.
People who are treated by stroke experts as soon as possible once symptoms of a stroke are recognized are much more likely to experience the most positive outcomes.
Nebraska Medicine's Stroke & Neurovascular Center is dedicated to the management and prevention of strokes in the state, our specially trained stroke team will ensure you receive the most appropriate and expert care available.
Rank Among the Fastest Teams in the State at Delivering the Proper Treatment for a Stroke
The most common type of stroke is an ischemic stroke. It is caused by a blockage in a blood vessel that stops the flow of blood and deprives the surrounding brain tissue of oxygen, causing cell death.
Here at Nebraska Medicine we give a drug called, tPA, tissue Plasminogen Activator. This medicine is the only thrombolytic agent approved by the Food and Drug Administration (FDA) for treating an acute ischemic stroke.
Our 24/7 stroke team has the training and expertise in giving this clot busting drug quickly upon your arrival, knowing every minute counts.
Perform the Newest Type of Surgery for the Most Severe Form of Stroke
We are experienced at performing a potentially life-saving procedure approved for large vessel ischemic strokes called a mechanical thrombectomy, which involves surgical removal of the clot from the brain.
Study results show that this procedure can significantly improve outcomes for these individuals by as much as 70 percent.
Nebraska Medicine is the only health care system in the region with vascular neurosurgeons performing this procedure 24 hours a day, seven days a week. Since a stroke can happen anytime, it is important to know where in your area you can receive this potentially life-saving procedure.
Overall, our patients have shown great outcomes after intervention treatments such as tPA and/or thrombectomy.
Our patients' average NIH score, which is a tool used to help measure the severity of a stroke and it's impairments, is 14.
After our patients' received an interventional treatment for their stroke, the average NIH score went down to five.
This shows that overall stroke patients being treated here have a significant improvement in their mobility and overall function after receiving tPA/thrombectomy treatment.
Provide Specialized Around-the-Clock Care
If you have a stroke, you will be treated by the only stroke team in the region capable of providing specialized around-the-clock care.
We are the only facility in the area with three fellowship-trained endovascular neurosurgeons, neurology vascular specialists, a neuro-intensivist, a neuro hospitalist and a stroke nurse practitioner.
Our endovascular neurosurgeons have special training in endovascular surgeries, which are innovative, less invasive procedures used to treat problems affecting the blood vessels.
When a patient arrives in the emergency room who is suspected of having a stroke, our dedicated stroke team is immediately notified and deployed.
A CT scan would be performed to find out what kind of stroke is occurring. It is evaluated by a stroke team neurologist to determine if you are a candidate for medication or surgery.
Our skilled and comprehensive stroke team will ensure you received the most advanced and comprehensive stroke care from the moment you arrive through your recovery.
Care for Patients in a Specialized Neurointensive Care Unit and a State-of-the-Art Stroke Unit
Here at Nebraska Medicine we have dedicated stroke units with highly trained staff specializing in stroke care. Our neuroscience intensive care unit and state-of-the-art stroke unit make up of 64 beds where patients recovering from a stroke can receive specialized monitoring and care.
Offer Excellent Rehabilitation Services
Stroke is the leading cause of disability in the United States, therefore implementing rehabilitation services after a stroke is crucial in your recovery.
The outlook for stroke patients today is more hopeful than ever due to advances in both stroke treatment and rehabilitation.
Our rehabilitation program is customized for each patient to help restore you or your loved one to optimal health, functioning and well-being.
Our rehabilitation therapists are specifically stroke-trained and work with patients immediately following a stroke. They then follow them through the continuum of care. Our goal is to help you achieve the highest level of independence and quality of life possible.
Our stroke rehabilitation program also will work with a stroke victim's family members to help their loved one achieve optimal function again.
Supply the Doctors Other Nebraska Hospitals Rely on to Diagnose Strokes
Launched in 2016, Nebraska Medicine now provides expertise on stroke issues through our telestroke program.
Provide Access to New Medications and Clinical Trials
We are among the first to learn about and use new drugs and clinical trials that may be applicable to helping combat strokes. See an updated list of what clinical trials in stroke we are currently conducting.
Accreditations and Awards
Nebraska Medicine is a primary stroke center, meaning it has been certified by the Joint Commission since 2005 and was the first nationally certified stroke center in the state. We've also earned American Heart Association and American Stroke Association Get with the Guidelines Stroke® Gold Plus Target Stroke Honor Roll Quality Achievement Award.
Additional Resources