Nebraska Medicine is a leader in cardiac surgery, providing the most advanced, complex and life-saving surgical treatments for patients with heart and vascular disease. Our heart and vascular team includes specialists in heart transplant, lung transplant, vascular disease, pulmonary hypertension, structural heart disease including abnormalities of the heart, heart septum and valves, aneurysms, arrhythmias, congenital heart conditions, interventional cardiology and advanced heart failure.
Service Options
Choose Nebraska Medicine for Your Heart Surgery Because:
Many members of our cardiac surgery team are subspecialists, providing them with greater knowledge, training, skills and experience in a set area. They also perform some of the highest volumes of cardiac surgeries in the region. High volumes translate into greater expertise, which results in higher levels of quality care and better outcomes. Patient's with cardiac disease are especially challenging to care for before, during, and after surgery. Specially trained cardiac anesthesiologists collaborate with cardiology and cardiac surgery to ensure the safest surgical experience possible. The training and expertise unique to cardiac patients provides an anesthetic specific to the patient's individual needs. This specialized care by our cardiac anesthesiologists makes Nebraska Medicine one of a kind in the region. Areas of focus include the following and more.
Leading Edge Therapies for Atrial Fibrillation:
Minimally Invasive Maze Procedure
A remedy for atrial fibrillation, that creates a "maze" of new electrical pathways to allow electrical impulses to easily transverse the heart. This ablation procedure allows the surgeon to correct the electrical irregularity in the atria without performing open-heart surgery.
Minimally Invasive Convergent Procedure
This leading edge technology blends cardiac surgery and electrophysiology techniques to provider a minimally invasive procedure and faster recovery time. A best of both worlds therapy for AFib.
---
Coronary Artery Disease
Coronary artery bypass grafting (CABG) is commonly used to treat coronary artery disease in the efforts to prevent or alleviate angina and most importantly heart attack.
---
Heart Valve and Aortic Conditions
We offer the most simple to the most complex care for treating heart valve and aortic conditions. Nebraska Medicine is the only hospital in the region to offer MitraClip, a minimally invasive procedure used to treat mitral valve regurgitation. TAVR or Transcatheter aortic valve replacement is also a leading edge minimally invasive option for patients with aortic stenosis. The structural heart team at Nebraska Medicine has the expertise and technology to handle even the most advanced heart valve and aortic disease. Conditions and therapies may include:
Aortic Stenosis
Atrial Septal Defect
Mitral Valve Regurgitation
Mitral Valve Prosthesis Valve
Perivalvular Leak
Complex Valve in Valve Procedures
---
Adult Congenital Heart Disease
We specialize in transitioning pediatric patients to adult care for congenital heart disease. With a regionally unique team of experts including nationally recognized specialists in Marfan syndrome, we have the support and care team dedicated to helping you live a longer, healthier life.
---
Extracorporeal Membrane Oxygenation (ECMO)
This advanced technology is used to treat patients with advanced heart or lung failure when standard treatments are not effective. ECMO is used to allow the heart and lungs to rest and heal while an artificial pump and oxygenator replace the entire cardiovascular and respiratory system. A life saving option not available in many facilities.
---
Total Artificial Heart Program
Nebraska Medicine is the only medical center in the region to offer a total artificial heart program, the most advanced support available for patients with heart failure. The artificial heart serves as a bridge to transplant to allow a patient to regain their strength until a donor heart becomes available.
---
Dedicated Cardiac Intensive Care
Our expert staff provides care to our cardiac and post-operative cardiovascular patients in one of two dedicated intensive care units, ensuring they receive care from experienced health care professionals who have special training and knowledge in the care of cardiac patients. Our Cardiac Intensive Care Unit (CICU) cares for the most severe and complex patients. The Cardiac Progressive Care Unit provides an intermediate level of care to cardiac patients with a variety of diagnoses, including coronary artery disease, congestive heart failure, myocardial infraction, angina and arrhythmias as well as post-operative cardiac surgery patients.
---
Pediatric Heart Surgery Procedures
Surgical repair or palliation of patients with congenital heart disease
Surgical repair of children with acquired heart disease and chest wall deformities/masses
Consultation on risks and benefits of surgery
Intensive and critical care
Transitioning the child with congenital heart disease to a normal lifestyle
Information on growth and development of the child with heart disease
Our patients range from newborns through adults
Prenatal consultation for mothers delivering an infant with congenital heart disease
---
Accreditations and Awards
U.S. News & World Report
In 2021, the Nebraska Medical Center received the High Performing Hospitals rating in Heart Bypass Surgery and Heart Failure.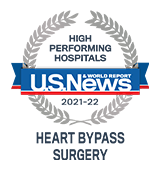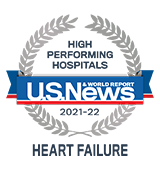 The Society of Thoracic Surgeons 3 Star Rating
As a national leader in health care transparency and accountability, The Society of Thoracic Surgeons believes that the public has a right to know the quality of surgical outcomes. 
To further this goal, the Society has established the STS Public Reporting initiative, which allows participants in the STS National Database to voluntarily report their surgical outcomes to the public on the STS website, the Consumer Reports website, or both. 
The first public reporting scores and ratings were published in September 2010 on isolated coronary artery bypass grafting (CABG) surgery data that were included in the ACSD. Since then, the initiative has grown to include isolated aortic valve replacement (AVR) and combined AVR and CABG (AVR+CABG) from the ACSD, observed-to-expected operative mortality ratios for procedures in the CHSD, and lobectomy procedures in the GTSD.
Using this information, consumers can see how participating cardiac surgical groups compare with national benchmarks for overall performance, survival, complications, and other measures. Nebraska Medicine is proud to achieve a 3 Star rating for cardiac surgery.