Heart failure is when the heart cannot pump enough blood to keep up with your body's needs. The heart muscle is not squeezing strong enough and causes fluid to build up in your body. As your heart grows weaker, shortness of breath, chronic fatigue and swelling in the ankles, feet and legs also become more severe. Even getting dressed can leave you tired and exhausted.
While heart failure has no cure, our advanced heart failure specialists can create a personalized treatment plan that helps you live a longer and more active life. Our heart failure team treats thousands of patients each year and has the experience and knowledge to deliver the most comprehensive care in the region.
Some of the conditions we treat include:
Ischemic heart disease (coronary artery disease)
Genetic cardiomyopathies
Infiltrative disease
Pulmonary hypertension
Congenital heart disease
Cancer-related heart disease
Nebraska Medicine is a leader in advanced heart failure care and is the only hospital in the area to offer left ventricular assist device, or LVAD,  and heart transplants.
What to expect
Our board-certified heart failure specialists work closely with experts throughout Nebraska Medicine to determine the best course of treatment for you.
Your heart failure team may include cardiothoracic surgeons, transplant surgeons, advanced practice providers, case management nurse coordinators with cardiac transplantation certification and critical care experts.
Treatment options for advanced heart failure could include:
CardioMEMS™ Heart Failure Remote Monitoring System
Genetic testing and counseling
Pulmonary hypertension therapy
Our heart failure team works with a shared goal: to reverse cardiac damage, improve survival, minimize symptoms and enhance your quality of life.
Why you should choose Nebraska Medicine
Our partnership with the University of Nebraska Medical Center gives us access to breakthrough clinical trials and innovative treatments for patients with advanced heart failure. We're not just treating patients – we're also conducting the studies for the next generation of drugs and procedures related to keeping your heart healthy.
We are committed to delivering world-class, compassionate heart failure care to our patients. In addition to being the only hospital in the region to offer left ventricular assist devices and heart transplants, Nebraska Medicine has been rated by U.S. News & World Report as "high performing" in heart failure, meaning we are among the best in the country for this specialty.
Find a Heart Failure Specialist
Search
Heart Failure Optimization Clinic

The Heart Failure Optimization Clinic is designed to enhance the care of patients with heart failure and help them live longer.

View More
U.S. News & World Report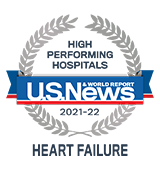 Integrated joint Commission
Integrated Joint Commission Certified Heart Failure Program - 2007 to Present
American Heart Association's Get With The Guidelines®
Nebraska Medicine is the proud recipient of the 2023 American Heart Association's Get with the Guidelines - Heart Failure Gold with Target: Heart Failure Honor Roll with Target: Type 2 Diabetes Honor Roll