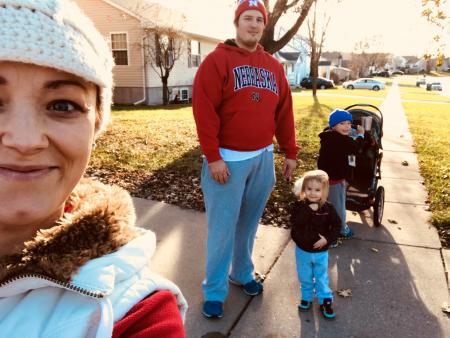 Jackie Holscher was 32 years old, with two young children and a new baby on the way. She was immersed in diapers, kindergarten roundup, sippy cups and getting life ready for baby number three. Cancer was the furthest thing from her mind.
When Holscher found a small lump on her breast about a month before she was due, she confided in her nurse midwife, who suggested it might be a plugged duct as she had just stopped nursing her youngest. "Let's keep an eye on it and check it after the new baby arrives," she told Holscher.
Holscher delivered a beautiful, healthy baby girl on May 3, 2017. But later, when she discovered that the lump was still there, it was decided that additional screening was needed. An MRI and ultrasound revealed a 2 centimeter solid mass tumor with a small strand connecting it to a second, smaller mass. It was not the news Holscher wanted to hear. The thought of her babies growing up without a mother raced through her mind. She vowed then to face this disease with strength, courage and positivity. It was not going define her, she says.  
Need a Second Opinion?
To schedule a One Day. One Plan. breast cancer consultation at Nebraska Medicine Cancer Network, call 402.559.5600.
The first task on her list – find the right doctor and hospital. Holscher and her family lived in Ankeny, Iowa. After having her initial screening tests performed with a medical team in Iowa, Holscher had become dissatisfied with her care. So a close friend encouraged her to get a second opinion in Omaha with doctors at the Nebraska Medicine Cancer Network. A comprehensive and personalized care plan was developed by a team of experts in medical oncology, surgical oncology, radiation oncology, genetics and plastic and reconstructive surgery all in one day – called the One Day. One Plan. approach. 
Holscher made a call to the clinic and everything moved along very quickly. Within a few days, Holscher was meeting with each member of her cancer team. Before she arrived for her appointment, the team had already reviewed all of her tests and health information and had collaborated to develop a coordinated plan based on the input of each of the cancer experts. By the end of the visit, she had a game plan in hand with several surgical options to explore. 
"The minute I began meeting with the doctors, I knew this was the place I needed to be," recalls Holscher. "They each came into my room and gave me their undivided attention and treated me as an individual. I felt like they were fighting for me as Jackie Holscher, not as just another breast cancer patient."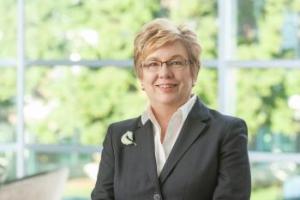 "Every possible option and complexity is discussed before we even see the patient so that the plan is coordinated and cohesive and we are all in agreement as to the best choices," agrees Elizabeth Reed, MD, Nebraska Medicine medical oncologist, and professor of internal medicine, Division of Hematology and Oncology at the University of Nebraska Medical Center (UNMC). "During her visit, Jackie never had to leave the room.  We all came to her. From the beginning, Jackie was a very positive and resilient patient. We are all very happy with her outcome."
Jackie and her husband decided on a bilateral mastectomy. "For us, this was the best decision that would give us the most peace of mind," says Holscher. "I didn't want to have to worry for the rest of my life that the cancer might show up in my other breast."
Holscher underwent breast reconstructive surgery this past spring. Other than the antibody treatment infusions she receives for HER2-positive  breast cancer (a growth-promoting protein on the outside of all breast cells), life is back to normal again for the Holscher family. 
"I can't put into words how amazing my team was at Nebraska Medicine," says Holscher. "They supported and cried with me during the sad times and rejoiced with me during the happy times and through each hurdle I completed. My advice for anyone going through cancer, would be to find a team that is working for you and whom you trust. You are going to have bad days, but if you have a team you can trust, it will be easier to bounce back and keep moving forward. Now I'm just looking forward to spending more time with my baby and making memories with my family again."