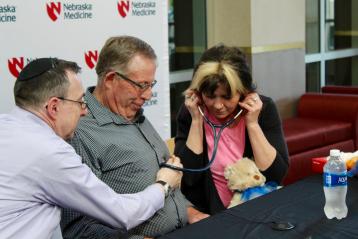 In high school, Gary Flint of Lexington, Nebraska, vividly remembers reading about heart transplants. But Flint never imagined he'd need one nearly 50 years later.
"Just goes to show, you never really know what's around the curve," says Flint.
In 2007, Flint was diagnosed with nonischemic cardiomyopathy, an enlargement of the heart that can be caused by high blood pressure, a virus, genetics or illicit drug use. Despite his condition, Flint continued to exercise and spray lawns for a local chemical spraying business.
"I was an active guy who didn't smoke or drink," explains Flint. "But in May 2014, my heart function got worse. I wasn't feeling well and had trouble breathing."
Flint's coworkers noticed he was slowing down. At one point, his lips turned blue. Flint met with a physician in Lincoln, Nebraska, who referred him to Nebraska Medicine's Heart Failure and Cardiac Transplant Program.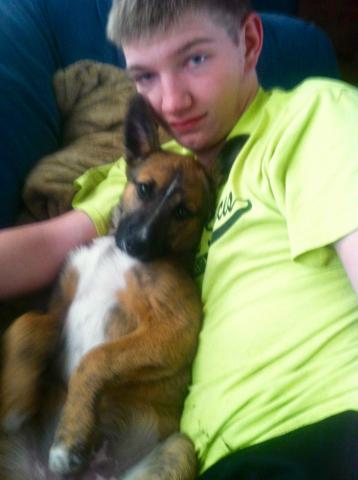 "When I got to Omaha, they wanted to admit me directly from clinic. But I was stubborn and insisted on returning home to Lexington that night," explains Flint. "That was a bad choice. I didn't sleep at all. The next day, my wife drove us back to Nebraska Medicine and I was admitted."
Approximately four percent of Flint's heart was working – he needed a heart transplant.
"I remember transplant surgeon Dr. John Um telling me, 'Gary, you're a very sick man. I'm not sure if we will get you a heart in time.' After hearing that, I made peace with dying. There were no tears. I knew I wouldn't live without a heart."
Six days after being placed on the transplant waiting list, Flint's nurse came into his hospital room at midnight and told him they found a match. At the time, Flint had no idea his donor was 16-year-old Payton Montana Casteel of Coin, Iowa.
"Payton was so intelligent and loved playing pranks on people," describes his mom, Anna Hutt, who now lives in Clarinda, Iowa. "He was great with computers, enjoyed welding, working on cars and his dirt bike."
On May 21, 2014, Casteel was riding his dirt bike about half a block from his house in Coin when he was hit by a van. Casteel wasn't wearing his helmet and suffered severe head trauma. A few weeks prior to the accident, Casteel received his learner's permit at the DMV and registered as an organ donor – something his mother didn't agree with at the time.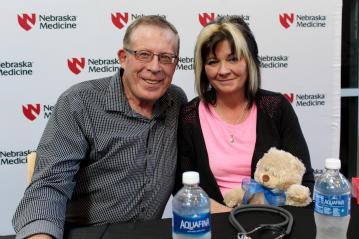 "I will never forget that conversation," says Hutt. "I told Payton, 'what you come into this world with, you should leave with.' But Payton didn't believe that. He told me, 'mom, they're my organs – not yours. Are you telling me that if something happens to me, you'd let my organs rot in the ground? No. I want to be a donor and help people.'"
Casteel's decision saved seven lives – including Flint's. One year after his heart transplant, Flint and Hutt started communicating via letters and phone calls. The two had never met until Sunday, May 14, 2017, which happened to be Mother's Day, Flint and Hutt finally met at Nebraska Medicine. Flint brought his wife, two adult children and grandchildren. His daughter, Heather, was actually eight months pregnant when Flint had his heart transplant at Nebraska Medicine on May 23, 2014.
"I have two birthdays now," explains Flint. "I always tell people that I'm 64 going on 18. My first birthday is February 27 – the day I was actually born. The other birthday is May 23 – the day I received Payton's heart. That birthday means much more to me."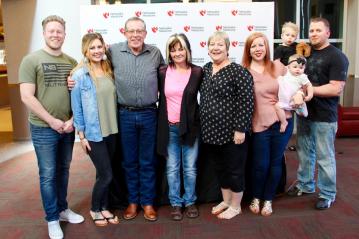 Since receiving the heart transplant, Flint says he has lots of energy – which makes perfect sense to Hutt.
"When Payton was little, he would go and go and go. It would make me tired just watching him," laughs Hutt. "Overall, I just want Gary to be healthy and happy. I'm excited to meet his family and listen to his heart. Most importantly, I want everyone to know how important it is to register as an organ donor. This entire experience has changed my perspective."
Nebraska Medicine is home to one of the most reputable and well-known organ transplant programs in the country. Nationally, it's estimated that 18 people die every day while waiting for organ transplants. A single donor can save up to eight lives and also improve the lives of up to 50 people through eye and tissue donation. To register as an organ donor, visit www.donatelife.net or www.nedonation.org.