Child Life Resources
What Will I Tell the Children
When a death occurs in a child's circle of friends or family, finding the words to describe it to a child can be difficult. The topic is daunting to approach but can be done so in a way that respects their emotional intelligence.
Child Life Specialists at Nebraska Medicine worked with grieving families to create the What Will I Tell the Children brochure with specific advice on how to address death with a child based on their age range.
Download the What Will I Tell the Children brochure

Kids Worry Too
The concept of hospitalization can be frightening to a child, whether it is their own or someone they know. This unfamiliar setting with unfamiliar routines can cause a child anxiety.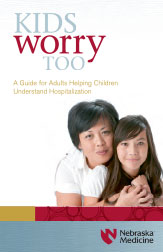 The Kids Worry Too brochure was created by Child Life Specialists at Nebraska Medicine to provide families with information on how to ease the stress of a health care event and involve children in the process appropriate for their age and understanding.
Download the Kids Worry Too brochure
Order Printed Copies
Both brochures are available for reprinting in large quantities for circulation in healthcare organizations. Spanish versions are also available.
To order multiple copies of the printed brochures, please download our brochure order form. Complete the form and mail it to the specified address along with the appropriate check payment. Please include the order form along with payment.
Contact Kelley Horrigan at (402) 559-8278 if you have questions about ordering brochures.