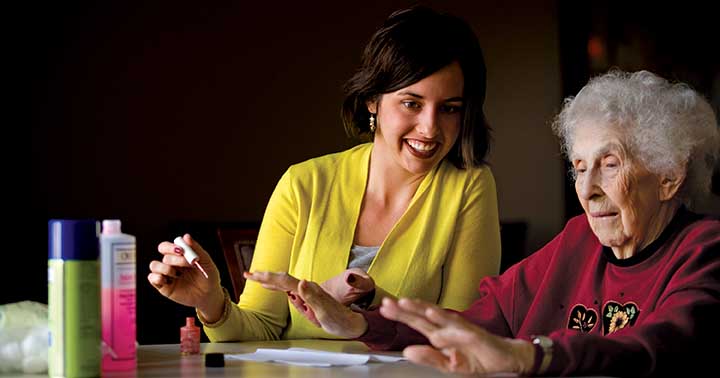 Epilepsy is an unpredictable and often misunderstood disease.
Living with a disease that can be so erratic, can be challenging, frustrating and even embarrassing. However, with the right diagnosis and treatment, epilepsy is more treatable than ever before.
At Nebraska Medicine's Epilepsy Center, freedom from seizures is no longer the exception, but the expectation.
As the only comprehensive epilepsy center of its type in the region, we diagnose and treat both children and adults using the most advanced diagnostic and treatment tools available.
We see the most complicated cases in the region and have the technology, treatment options and medical expertise to provide any type of therapy available in the world.
The center follows approximately 3,000 patients and performs approximately 40 surgeries a year, which places it in the top 10 centers in the country.
Why Come to Nebraska Medicine for Epilepsy Treatment?
For Our Reputation
The National Association of Epilepsy Centers granted us the highest level of accreditation—a Level 4 Center of Excellence. This means our doctors and surgeons are specially trained, we see the most complicated cases and we use the latest techniques to help you.
To See the Field's Leading Experts
The Epilepsy Center staffs two neurologists who are board-certified in epilepsy, as well as a team of experts, including neurosurgeons, psychologists, neuropsychologists, dedicated nurse case managers, registered electroencephalography (EEG) technologists and registered dietitians, who meet weekly to review cases.
We Use the Most Advanced Testing Tool
Nebraska Medicine was one of first epilepsy centers in the country to use a state-of-the-art magnetoencephalograph (MEG) scanner to diagnose and treat epilepsy and other neurological disorders.
The MEG scanner provides a detailed map of the magnetic fields generated by the brain's activity, which allows doctors to identify exactly where a problem is occurring.
The MEG scanner means that Nebraska Medicine doctors have the best tools available to precisely diagnose and treat epilepsy.
We Provide an Array of Treatment Options
The treatment of epilepsy has flourished in the past decade, and Nebraska Medicine has led the way.
Our first approach to providing care includes the review of current medications. New medications, or different combinations of medications, can make a big difference in epilepsy control.
Sixty to 70 percent of patients can become seizure-free with the proper medications. The remaining 30 to 40 percent may require surgery combined with medications. We listen to your needs and concerns as we consider treatments.
If seizures continue, our second approach to treating epilepsy involves video electroencephalography (EEG) monitoring to determine if you are a candidate for surgery. Our specialized EEG suite is located in our Level 4 Epilepsy Center and is monitored 24/7 by specially trained nurses and technicians.
Surgical treatments depend on each particular case. The goal is to disrupt or remove the brain circuits that cause seizures while protecting the parts of the brain that control speech, language, memory and movement. If surgery is needed, your neurologist, your neurosurgeon, and all the members of your team will work closely together to coordinate the best care for you.
Vagal nerve stimulation (VNS) is also available and involves implanting a small device that sends frequent electrical impulses to the brain with the goal of controlling the number of seizures a patient experiences. The small device functions like a pacemaker.
Another related option is the RNS® System, a new implantable device to help control seizures.
The RNS System continuously monitors the brain's electrical activity. When it detects abnormal electrical activity, it delivers tiny doses of electrical stimulation to stop seizures before they start.
Watch a video about the RNS® System.
To Get the Support of Others Who Struggle with Epilepsy
We encourage patients and family members to participate in an epilepsy support group. Monthly sessions include educational information and resources, expert speakers on epilepsy topics, and plenty of time to talk and share experiences. For further support services and advocacy, contact Lifestyle Innovations For Epilepsy, Inc. at www.epilepsylife.org.
Accreditations and Awards
Nebraska Medicine was the first hospital in the state to receive the National Association of Epilepsy Centers' designation as a Level 4 (highest level) Epilepsy Center, and we are the only hospital in the state to have a Level 4 Epilepsy Center for both adults and children
Related Links: