Jun Kaneko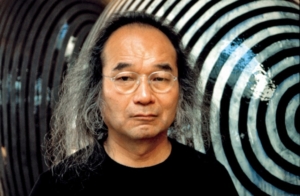 Born in Nagoya, Japan in 1942, Kaneko studied painting with Satoshi Ogawa during his adolescence - working in his studio during the day and attending high school in the evening.
He came to the United States in 1963 to continue his studies at Chouinard Institute of Art when his introduction to Fred Marer drew him to sculptural ceramics. He proceeded to study with Peter Voulkos, Paul Soldner, and Jerry Rothman in California during the time now defined as The Contemporary Ceramics Movement in America.
The following decade, Kaneko taught at some of the nation's leading art schools, including Scripps College, Rhode Island School of Design and Cranbrook Academy of Art.
Based in Omaha since 1986, Kaneko has worked at several experimental studios including European Ceramic Work Center in The Netherlands, Otsuka Omi Ceramic Company in Japan, Fabric Workshop in Philadelphia, Bullseye Glass in Portland, Oregon, Acadia Summer Arts Program in Bar Harbor, Maine, and Aguacate in Puerto Vallarta, Mexico.
Over the course of his career he has partnered with industrial facilities to realize large-scale, hand-built sculptures. The first was his 1982-1983 Omaha Project at Omaha Brickworks. Later series of sculptures were created at Mission Clay Products at his Fremont Project, completed in 1992-1994 in California, and his Pittsburg Project completed in 2004-2007 in Kansas.
In 2013, his exhibition Myths, Legends and Truths opened at Millennium Park in Chicago featuring 13, 9½-foot-tall Dangos from the Pittsburg Project series and 23 of his Tanuki, a new body of work by Kaneko drawing upon Japanese folklore.
His artwork appears in numerous international and national solo and group exhibitions annually, and is included in more than 70 museum collections. Kaneko holds honorary doctorates from the University of Nebraska, the Massachusetts College of Art & Design and the Royal College of Art in London and is the recipient of national, state and organization honors and fellowships.
Kaneko is increasingly drawn to installations that promote civic interaction. He has completed more than 50 public art commissions, including Current, his two 350-foot long Murals at Aquarium Station in Boston (1993-2000), Shift, a 5-story Mural in the Biology and Physics Building at The University of Connecticut (1997) and the Mashima Sports Arena Mural in Osaka, Japan (1994); permanent plaza installations, Rhythm, in Council Bluffs and Water Plaza, at the Bartle Hall Convention Center in Kansas City, Kansas (2006), Five Dangos (2007) with glass mural, Expansion (2013) in Des Moines, Iowa, and Conversation at the International Finance Center in Shanghai, China (2012) Ascent at Tower Square, his 56-foot tall Glass Tower, Plaza Design, and Tile Wall in Lincoln, Nebraska (2014) and Garden of Tanuki, a dozen Tanuki sculptures, at the Omaha Henry Doorly Zoo (2014).
Jun Kaneko designed the sets and costumes for three operas: Puccini's Madame Butterfly (2006), Beethoven's Fidelio (2008), and Mozart's The Magic Flute (2012). All three are currently touring in the United States. Opera Omaha recently staged Fidelio in April 2015. The San Francisco Opera will present Madame Butterfly for the second time in November 2016, and the Washington National Opera at the Kennedy Center in Washington, D.C. will present Madame Butterfly in May 2017.
He and his wife Ree Kaneko formed KANEKO, a public non-profit cultural organization, exploring and encouraging the process of creativity, headquartered in three turn-of- the-century warehouses in the Old Market District of Omaha, Nebraska. KANEKO is an institution with a vision to celebrate creativity and is committed to fostering it as the overriding mission with four major programming themes: Design, Ideas, Performance, and Innovation.
The Search Tower is made possible with an anonymous donor gift and will be another cornerstone of the Healing Arts Program.
Search Tower Facts
75 feet high glass tower
1,800 square feet of glass
40,920 lbs. of glass
24-foot circumference
7-foot high pedestal
Hand cut and ground, hand blown stained glass with color and opaque flash laminated onto 120 carrier safety glass panels
120 glass panels, each 90 inches high by 24 inches wide (15 square feet each)
Each panel weighs 341 lbs.
Two layers of 5/16-inch-thick, fully tempered, heat-soaked, low-iron glass with opaque PVB film interlayer
Roundabout will feature locally sourced black and grey pavers in radiating concentric rings
Jun Kaneko has worked with a variety of glass techniques creating artwork for more than 40 years. This is the third project he has created using this technique.
Glass is chemically the same as a glaze except light passes though it adding another dimension to the piece.
Kaneko wants to create a positive piece that has a universal impact on all of the people who work at the medical center as care givers, researchers, doctors and nurses and the patients and families who come to the Fred & Pamela Buffett Cancer Center for treatment.
The tower is being fabricated by master glass artisans in Germany.
The tower will be lit at night by interior LED diodes.