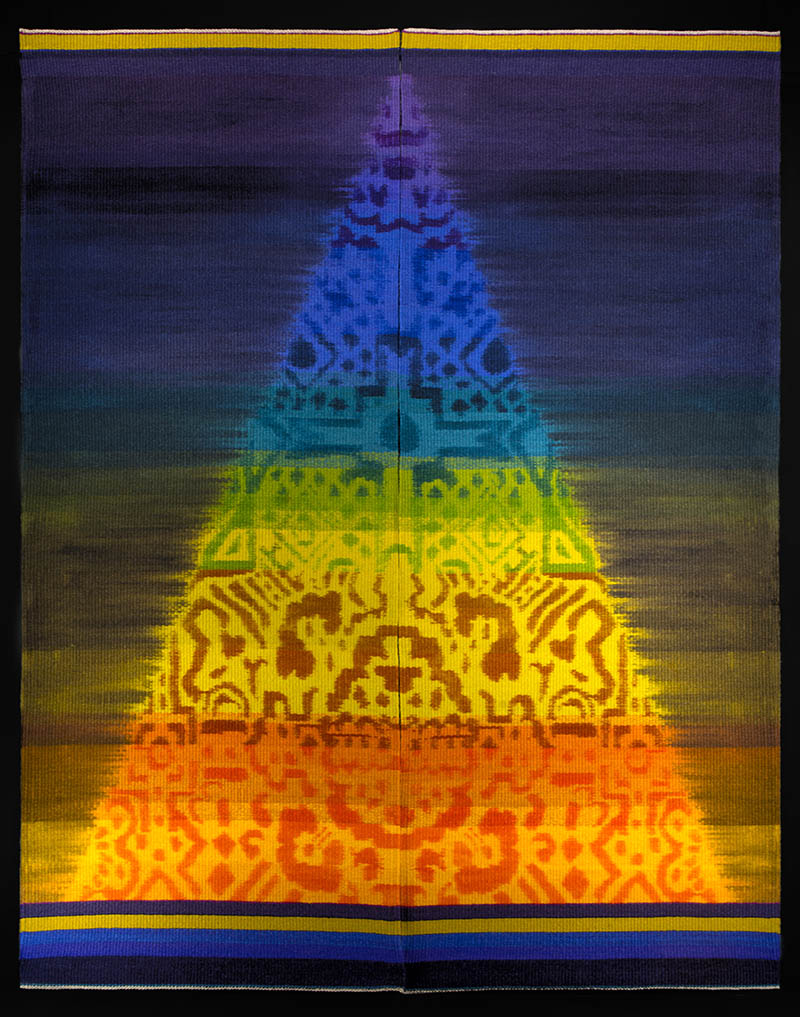 The gallery space on Level 1 of the Fred & Pamela Buffett Cancer Center will host the exhibition Mary Zicafoose: Alchemy of Color & Cloth, October 12, 2018–April 6, 2019.
For three decades, Nebraska artist Mary Zicafoose has been creating woven tapestries that are as visually compelling as they are narrative. Reinterpreting centuries old weaving traditions into contemporary cloth, her work engages viewers in intimate dialogues between vibrant dyes, intricate patterns and archetypal shapes. The exhibition is largely curated from two of her recent bodies of work, Fault Lines and Mountain for the Buddha, and features 18 tapestries and collographic monoprints on paper by Zicafoose.
Zicafoose's image making, based on geometric and metaphysical symbols, is saturated and layered. Largely self-taught, she works in a very old and revered resist wrap textile process called ikat. The term ikat means to "bind" or "tie" in the Malaysian language. To create her tapestries, each individual thread is bound with a resist tape in specific design areas, breaking down the overall composition into tiny visual elements much like pixels. Individual section of yarns are stretched, wrapped, dyed, and unwrapped and then re-stretched, re-wrapped, over dyed, and unwrapped, with the process continuing until all layers of the design are dyed into the yarns and then finally woven together. The result: a tapestry that radiates a powerful frequency of color.
For more information on Mary Zicafoose, please visit www.maryzicafoose.com