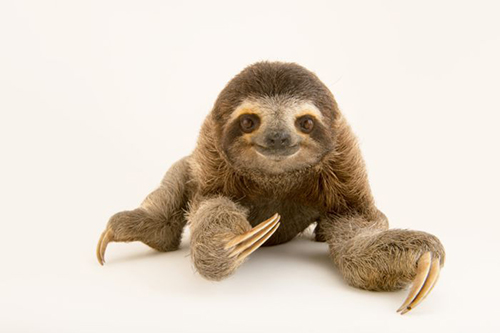 The gallery space on Level 1 of the Fred & Pamela Buffett Cancer Center will host the exhibition Joel Sartore: Photo Ark, May 15, 2020–November 13, 2020. The exhibition features the photographs of Nebraska photographer Joel Sartore. Joel Sartore is an award-winning photographer, speaker, author and conservationist. Since 1991, he has been a regular contributor to National Geographic Magazine and was awarded National Geographic Explorer of the Year in 2018. Sartore specializes in documenting endangered species and landscapes around the world. In 2005, he started the Photo Ark, a 25-year documentary project to save species and their habitats.
Photo Ark is an archive of intimate and stunning photographic portraits of birds, fish, mammals, reptiles, amphibians and invertebrates. Sartore's aim is to create studio-style portraits of all animal species in human care around the world – an estimated 12,000 species at least. These photographs are his way of giving animals a voice and capturing people's attention and affections, so that they can be saved. To date, Sartore has visited over 40 countries and photographed more than 9,000 species around the world to inspire people to care and help protect these animals. In his words, "When we save species, we're actually saving ourselves."
In addition to his work for National Geographic, Joel has contributed to Audubon magazine, Time, Life, Newsweek, Sports Illustrated and numerous book projects. He has been featured in several national broadcasts, including NBC Nightly News, NPR's Weekend Edition, National Geographic's Explorer and an hour-long PBS documentary, At Close Range. He is also a regular contributor to the CBS Sunday Morning show.
Learn more about Joel Sartore and the Photo Ark