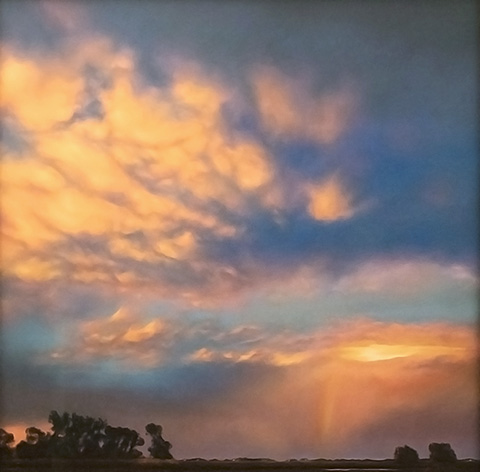 The gallery space on Level 1 of the Fred & Pamela Buffett Cancer Center will host the exhibition Healing + Community, October 18, 2019 - April 17, 2020. The exhibition features the artwork of five Nebraska artists – Jennifer Homan, Charles Kay, Jr., Laurie Victor Kay, Thomas Prinz, and Jennifer Radil.
The exhibition grew from a recent Healing Arts Acquisition Committee project: to select artwork for the Special Care Unit at the cancer center. In this inpatient unit, bone marrow and stem cell transplant patients live in isolation for up to three months as they undergo the transplant and recovery process. Because the Special Care Unit becomes a temporary home for these patients, the committee sought to create an inspirational environment with artwork that represented the local Nebraska community.
The five artists in this exhibition were selected for the Special Care Unit project because their works reflect the unique art community of Nebraska and culture of the region. Each of these five artists embodies a distinct form of expression, and the selection of artworks in this exhibition represents outstanding examples of works by these artists. Ranging from realism to abstraction, some of the works feature the artists' signature subjects, while other works reflect new explorations by the artists. Together these artists and their artworks represent the coalescence of healing and community. They unite us through sharing their gift of healing through art.