Qualified and Prepared
In late July 2014, representative from the U.S. State Department recently visited Nebraska Medicine to take a closer look at the capabilities of our 10 bed Biocontainment Unit. In early September 2014, we successfully treated our first patient, Dr. Rick Sacra. Dr. Sacra contracted the virus while treating patients in West Africa. He was discharged from our Biocontainment Unit in late September, 2014. We received our second patient, Ashoka Mukpo, in early October 2014. He is currently undergoing treatment in the Biocontainment Unit.
The unit has been operational for nearly ten years and is one of four such units in the country equipped to handle an outbreak of this nature. Our physicians, nurses and staff are specially trained and participate in regular drills on the specific protocols and procedures to care for this type of patient. "The Ebola virus is very difficult to contract," said Phil Smith, M.D., medical director of the unit. "The risk it would pose to people outside the unit would be zero, and this is something that can be very safely treated without infecting health care workers."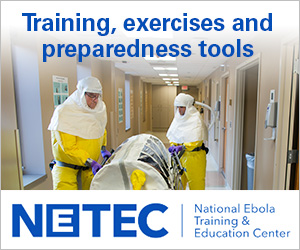 ---
Resources for Clinicians
Webinars
Ebola Resources & Protocols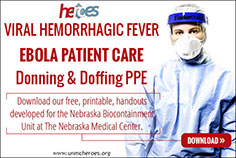 Download Free Ebola Patient Care Donning & Doffing PPE Handouts:
Ebola Videos
Internal Communication & Media Relations
Questions and Answers about Ebola
What kind of treatments are Ebola patients receiving?
Both of our Ebola patients have received experimental drugs. In the case of Dr. Richard Sacra, he received TKM-Ebola. Ashoka Mukpo is receiving Brincidofovir. Both are designed to stop the virus from replicating. They also received blood transfusions from Dr. Kent Brantly, an Ebola survivor. The thought with this treatment is that Dr. Brantly's blood contains antibodies that will help the current Ebola patients' immune systems fight off the disease. They are also receiving supportive care - IV fluids and other treatment designed to sustain the patients' fluid levels while fighting off the disease.
Is it safe for patients, visitors and staff?
Yes. This is exactly why we built this facility 10 years ago—to contain the spread of highly infectious diseases. Our caregivers on this unit are well trained and have participated in regular drills to prepare for exactly this sort of situation. The fact that we are one of just four facilities in the country prepared to handle this kind of complicated care should be a source of comfort for our staff, our community and our patients.
How can we be sure it won't spread?
While talk of an Ebola outbreak can be alarming, health officials say an outbreak in the U.S. very low. The virus can only be spread by coming in close contact with an infected person's blood or bodily fluids. Health officials also say the outbreak in Africa is less of a medical problem and more of a social problem because most people there are not aware of symptoms and how it is spread.
What makes our biocontainment unit safe?
Our unit is a secure, air-locked facility and operates on an air handling system that's separate from the rest of the organization. Our highly trained team is perhaps our greatest defense. They have received many hours of highly specialized training and detailed instruction on how to care for these types of seriously ill patients. They would be using special, personal protective gear to control the spread of disease. We are national leaders in this area of response and care and will ensure every safeguard is in place to protect our staff, our other patients and their families.
Additional Resources