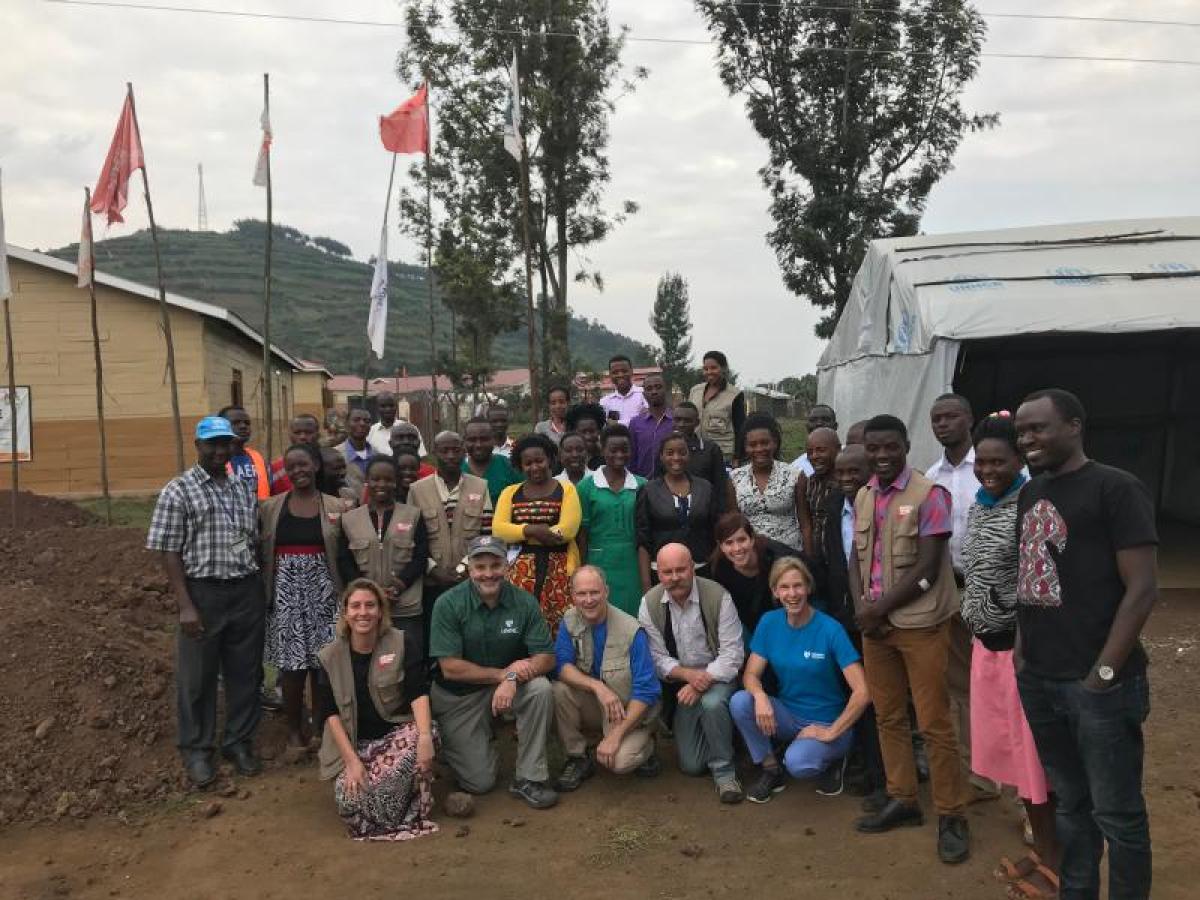 In response to the second outbreak of Ebola virus in the Democratic Republic of the Congo (DRC) this year, the University of Nebraska Medical Center (UNMC) and Nebraska Medicine sent a team of infectious diseases experts to the East African nation of Uganda to help prevent the spread of the deadly disease.
Uganda shares a border with the DRC provinces of North Kivu and Ituri, where health leaders in the area declared a new outbreak of Ebola virus disease in early August. The United Nations High Commission for Refugees reports that hundreds of refugees cross that border from the DRC into Uganda every day.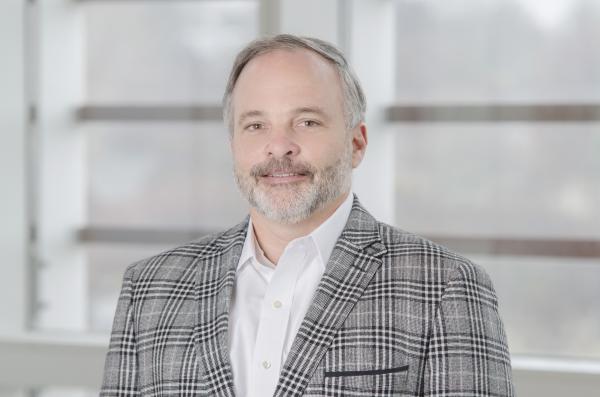 "The best way to prevent a global spread of the disease is to contain it in the country where it starts," said James Lawler, M.D., an infectious diseases expert and leader of the team working in Uganda. "UNMC and Nebraska Medicine are uniquely prepared to provide training in a situation like this, and our experience as one of four U.S. hospitals to successfully treat patients with Ebola during the West Africa outbreak in 2014 along with subsequent training and quarantine efforts have made us a world leader in this arena."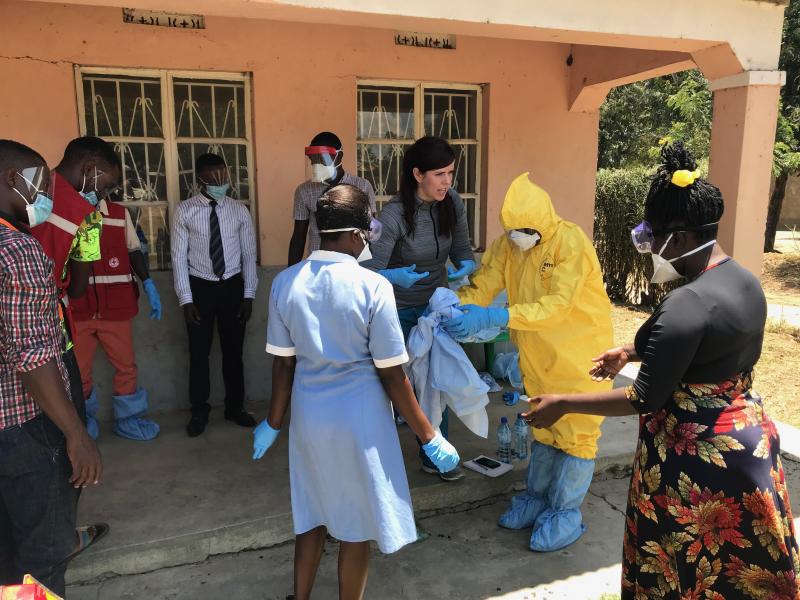 "The clinicians and staff from Nebraska's Biocontainment Unit have the infectious disease expertise and experience to share their knowledge and insight," said Robert Kadlec, M.D., assistant secretary for preparedness and response at the U.S. Department of Health and Human Services. "Their collaboration with health care workers helping to prevent the spread of the Ebola outbreak in the DRC is critical to our global health security."
Medical Teams International, which provides support for refugees fleeing violence in the DRC into Western Uganda, requested help from the UNMC/Nebraska Medicine team. Our team, consisting of one doctor, three nurses, and a respiratory therapist, was tasked with training frontline health care workers who are screening refugees at health clinics and intake stations associated with refugee camps in Western Uganda.
The team was not tasked with providing direct care for any patients diagnosed with Ebola while in one of the camps. While other United States citizens also are taking part in the effort, the UNMC/Nebraska Medicine team is the only U.S. academic medical center providing organized support.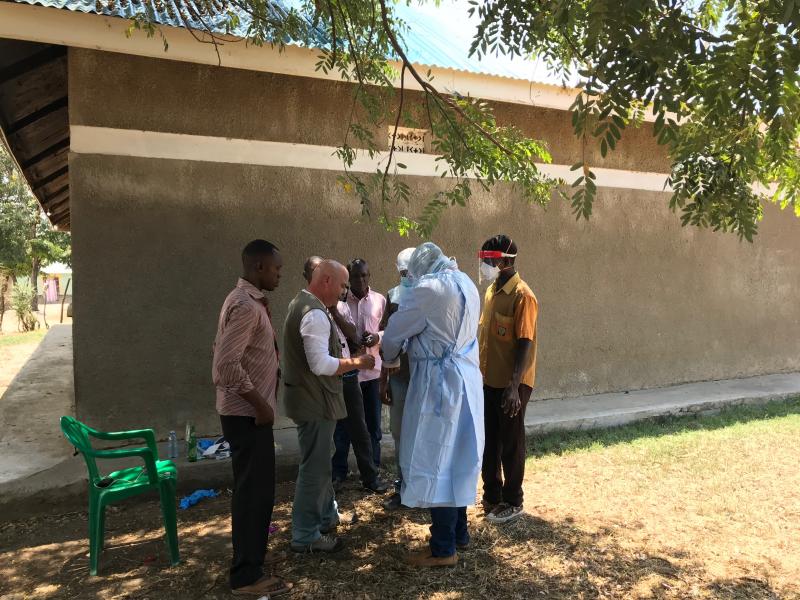 "We are honored and humbled to have been asked to assist in this effort," said Jeffrey P. Gold, M.D., chancellor of UNMC and the University of Nebraska at Omaha. "Our mission is to lead the world in our areas of expertise, and this is certainly one of them.
"The establishment of the Global Center for Health Security here last year positions us not only as one of the few institutions which could provide a response to a crisis such as this, but also as one that should."
Experts agree that the situation in the DRC will only worsen without international assistance, making it possible that it could mirror the African outbreak four years ago, which killed more than 11,000 people.
Members of the team left Omaha on Sept. 25, flying to the National Institutes of Health in Bethesda, Md., to be vaccinated with an experimental Ebola vaccine along with a vaccine for yellow fever. They then travelled to various areas of Western Uganda and began training local health care workers beginning on Sept 29.
The vaccine, which UNMC/Nebraska Medicine used in a prior outbreak, has shown promise in stemming the tide of the disease during previous recent outbreaks. The team members are expected to return to Omaha Oct. 5.
Members of the UNMC/Nebraska Medicine Nebraska Biocontainment Unit cared for three patients during the Ebola crisis of 2014. Since then, members of UNMC/Nebraska Medicine team have traveled the nation and the globe training others in how to treat patients with highly infectious diseases.
The Global Center for Health Security was established at UNMC/Nebraska Medicine in 2017, and in 2019, the National Center for Health Security and Biopreparedness will open on campus in the new Davis Global Center for Advanced Interprofessional Learning.
It will feature quarantine facilities and highly specialized simulation training labs to prepare federal health care personnel and others to care for and conduct procedures for patients with highly infectious diseases.