Below, our infectious diseases experts have addressed some questions received from our immunocompromised patients. 
If you have received a solid organ transplant, a hematopoietic stem cell transplant, or if you are currently receiving cancer therapies, this information is for you. 
Are transplant recipients and those receiving cancer therapy at higher risk for the virus?
Patients with compromised immune systems are at greater risk for complications from COVID-19. We know from other respiratory viruses that oncology and transplant patients are more likely to require hospitalization than otherwise healthy individuals. 
What are the travel restrictions for cancer patients, transplant recipients or individuals awaiting transplantation? 
COVID-19 has been diagnosed in over 100 countries as of March 2020, including widespread transmission throughout the U.S. 
We recommend:
Do not travel to areas with high amounts of the circulating virus
We strongly recommend social distancing, which includes avoiding gatherings outside of your immediate household. This includes family gatherings, religious celebrations or other situations where a 6-foot radius between people cannot be maintained
Nonessential travel should be postponed
We highly suggest that oncology patients and transplant recipients' immediate household contacts postpone non-essential travel
Should I wear a mask because I am immunocompromised?
Yes, we recommend the use of cloth face coverings in public settings where you must be within six feet of other people, even if you are vaccinated. Wearing a cloth face covering is especially important in areas with large amounts of community-based transmission.
Should transplant recipients and those receiving cancer therapies avoid public areas?
Yes. People with immunocompromised conditions should avoid crowded areas to decrease the risk of becoming infected. We are also encouraging the general population to do the same to limit spreading of COVID-19 in our community.
What should you do if you have fever or have new respiratory symptoms, such as a cough?
We recommend:
Call your transplant or oncology case manager. They will direct you to next steps
Do not go out in public
You will be asked to put on a mask when you arrive at the hospital or clinic
If you have a true medical emergency, we recommend that you call 911
My family member just returned from an area with high COVID-19 activity. What should I do? 
It is best to avoid contact for 14 days with individuals who have been exposed to COVID-19. If the individual remains healthy after 14 days, contact can be resumed.
What should I do if avoiding contact is not possible?
We recommend:
Practice frequent hand-washing or hand sanitizer use
All household members should avoid touching their eyes, mouths, and noses
Cough and sneeze etiquette should be practiced (see image below)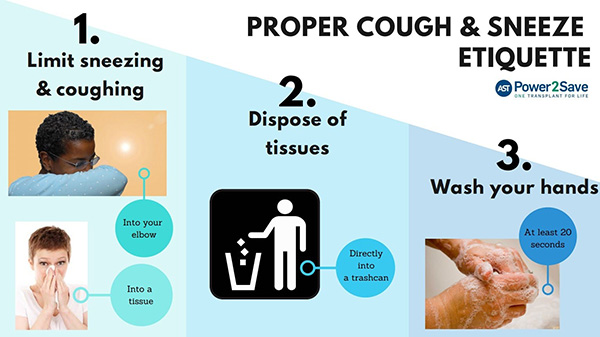 What should I do if a family member or co-worker is diagnosed with COVID-19?
If a close contact is diagnosed with, or is suspected of having COVID-19, he/she should avoid all further contact with you. Call your case manager to let your oncology or transplant team know that you have been in contact with someone diagnosed with COVID-19. You will be monitored for symptoms including fever, cough or shortness of breath.
Is it safe for me to go to the hospital for appointments? 
Your transplant and oncology teams may choose to postpone non-emergent appointments. You will be notified if this occurs.
What can I do to protect myself during an outbreak of COVID-19 in my area? 
We recommend:
Avoid crowded areas and sick individuals
Wash hand frequently. Use hand sanitizer when soap and water are not available
Ensure you have enough supplies for a possible 14-day quarantine, including a minimum 2-week supply of your medications if possible
Check to see if your insurance allows for 90-day supply rather than a 30-day supply of medications to ensure access to medications
If you're insurance supplies 30 days at a time, do not wait until the day before to refill, but refill a week in advance each time
Consider having medicines: 

Mailed to your home
Using a pharmacy drive-thru
Having your caregiver pick up your medicines from the pharmacy to avoid crowded places
I am awaiting a transplant. Could I get COVID-19 from my donor? 
The risk of acquiring COVID-19 from organ or allogeneic stem cell (cells from another individual) donation is thought to be low, but overall rates are currently unknown. Measures are in place to reduce this risk as much as possible.