Get the latest COVID-19 news from infectious diseases expert Mark Rupp, MD, including COVID-19 case rates, types of variants circulating and vaccine updates.
There are currently more than 12,574 patients hospitalized in the United States per week, with 14% of those being ICU patients. The most recent data on the test positivity rate is from the week ending September 16, which was 12.5%. When test positivity is above 5%, transmission is considered uncontrolled.
Since many are using home tests that are not reported through public health or are not testing at all, the official case counts underestimate the actual prevalence of COVID-19.
What COVID-19 variant are we on?
Currently, the dominant variant nationwide is EG.5, with 24.5% of cases, followed by FL.1.5.1, with 13.7% of cases, and XBB.1.16 with 10.2% of cases. "The original omicron variant is gone now," says Dr. Rupp. "Currently subvariants of omicron are circulating, including EG.5, XBB.1.5, and XBB.1.16."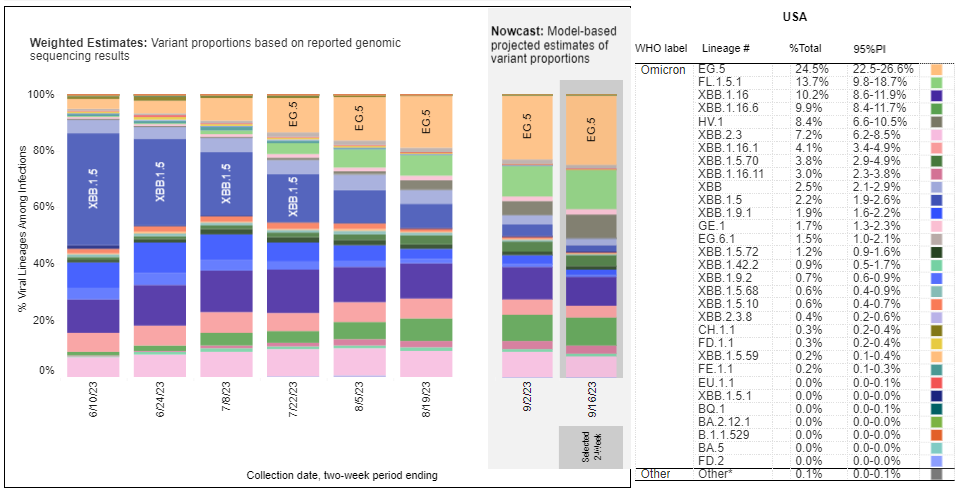 COVID-19 in Nebraska
In the week ending September 23, 2023, there were 4,705 COVID-19 tests performed in Nebraska, with 504 positive results. This is a 10.7% positivity rate, down .2% from the week prior.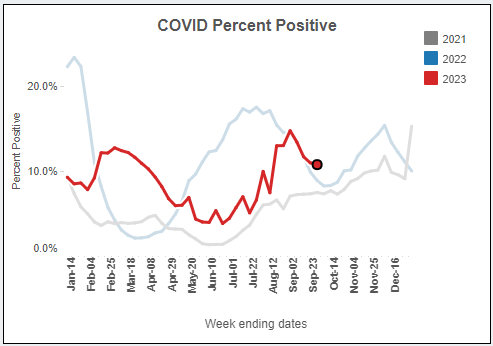 Which COVID-19 variant do I have? And do COVID-19 tests tell you the variant?
When you receive a COVID-19 test, you won't find out which variant caused your infection. That's because COVID-19 tests only detect the presence of the virus – they don't determine the variant.
Genomic sequencing looks at the genetic code of the virus to determine which variant caused the infection.
Nebraska DHHS sequences test samples after a positive test is identified and reports the total percentage of each variant every two weeks. See the latest genomic surveillance report for Nebraska. Sequencing results are used by public health experts to understand variant trends in the community.
Will COVID-19 variants affect the vaccine?
The best way to prevent new variants is to slow the spread of the virus. The great news is that these proven public health strategies continue to work against new variants as well.
Choose outdoor activities over indoor activities whenever possible
Wash your hands often
Avoid close contact with others
Wear a mask in public places
Stay home if you're sick or have symptoms of COVID-19
"We have a lot of disease out there. People should continue to be careful," Dr. Rupp says. "Get the bivalent booster, try to avoid high-risk settings. If you can't, then I think you should wear a mask."
Get your COVID bivalent booster
Everyone 6 months and older should get an updated COVID-19 booster. These updated bivalent boosters offer protection against the omicron variants, plus the original COVID-19 strain.
In Nebraska, vaccination and booster dose rates need to increase. Evidence shows those vaccinated and boosted continue to be protected against severe disease, hospitalization, and death – even with the latest variants. Unfortunately, Nebraska is behind compared to other states, with only about 16% of those who are eligible to have received a booster actually getting the shot as of January 2023.
Our pharmacies offer COVID-19 bivalent booster vaccines on a walk-in basis. View which vaccines are available at each location.