In January 2018, Nebraska Medicine became the first health care system in Omaha to implant the WATCHMAN™ left atrial appendage occlusion device. This device is designed to lower your risk of stroke due to atrial fibrillation (afib) while at the same time allowing you to stop blood thinners. Clinical trials have shown this implant to be a safe alternative to the blood thinner warfarin (also known as Coumadin) with comparable stroke-risk reduction.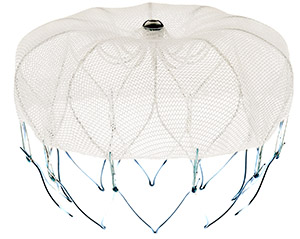 Atrial fibrillation — irregular quivering of the upper chamber of the heart — affects more than 5 million Americans and is responsible for 15 to 20 percent of all strokes nationwide. The average person with afib is five times more likely to have a stroke than someone with a regular heartbeat. Afib leads to a decrease in the pumping capacity of the upper chambers of the heart. This results in decreased blood movement and encourages blood clots to form in a blind pouch connected to the left upper chamber, called the left atrial appendage. A blood clot could escape from this area and travel to another part of the body. When this part of the body is the brain, it can results in a stroke. 
Medicines like warfarin that thin the blood to prevent clots have, until now, been the standard way to reduce the risk of stroke. However, these medications are not suitable for many patients due to bleeding risks, medication interactions, and other adverse reactions.
If you have a reason to seek an alternative to blood thinners, such as a history of bleeding or a lifestyle, occupation or condition that puts you at risk for bleeding, WATCHMAN™ may be right for you. 
Why have this procedure done at Nebraska Medicine?
First in Omaha
We were the first in Omaha to offer the procedure, and we're the only program in the state to offer a comprehensive team dedicated to treating atrial fibrillation.
Potential Permanent Solution
WATCHMAN™ is a permanent implant that provides an alternative to the lifelong use of blood thinners, while lowering your stroke due to afib risk. The device is about the size of a quarter and made from nitinol, a very light and compact material commonly used in many other medical implants. 
Short Procedure Done Under General Anesthetic
We implant the WATCHMAN™ device through a vein in the leg using a minimally invasive catheter to reach the heart.  The procedure only takes about an hour and is guided by transesophageal echocardiography (TEE ultrasound).  A one-night hospital stay is typical.  The procedure is performed by Dr. Andrew Goldsweig.
Medicare and many insurance companies now cover this device, which is approved by the FDA. Watch this video by Boston Scientific, manufacturer of the WATCHMAN™ device, to understand the procedure in more detail and to see statistics on its successful outcomes.
Normally, you'll have to take blood thinners for about 45 days after the procedure. During this time, heart tissue will grow over the implant to form a barrier against blood clots. We'll monitor this process by taking TEE ultrasound pictures of your heart to see when you can stop taking blood thinners.  Most patients will also need to take a medicine called clopidogrel (also known as Plavix®) for a few months and aspirin on an ongoing basis.  
Our Team Offers a Wide Variety of Ways to Assist You
If this procedure is not the right fit for you, we offer a wide variety of other ways to help you with cardiac arrhythmias, of which afib is the most common.
See a list of insurance companies we accept.
The information contained on this page is for information purposes only. For specific questions regarding your medical condition or treatment, please consult with your doctor directly.