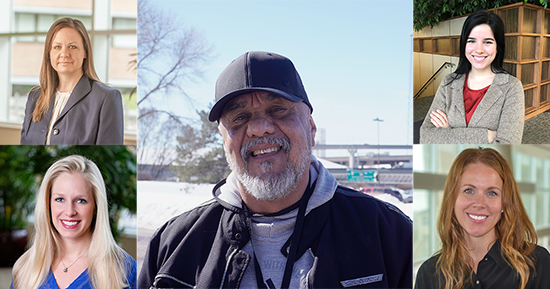 Omaha saw more than 100 nonfatal shooting victims in 2019. These survivors are left with physical, mental and emotional trauma. The chances of violent re-injury or retaliation are high, causing untold damage to individuals, families and communities.
But with the right people at the right time, a hospitalization can be a lifeline. When the experienced team of ENCOMPASS Omaha sees a patient with a violent injury, they advocate for and support the victim throughout recovery. The team helps victims of violence heal from physical and emotional trauma by empowering them with skills, community-based services and educational opportunities.
As a hospital-based violence intervention program, ENCOMPASS Omaha works to reduce violence in the community. Meet our team members and see why they dedicated to the work.    
Jennifer Burt, PhD, LP
Dr. Burt is a pediatric psychologist with a focused interest in violence prevention and trauma while working at the integrated behavioral health clinic at Children's Physicians in Dundee. Her expertise in the psychological effects of trauma creates a trauma-informed care approach to working with victims of violence.
Charity Evans, MD, MHCM, FACS
Dr. Evans is a trauma surgeon who has invested most of her career in violence prevention and intervention while working in Omaha. After years of seeing young individuals injured by violence, she decided to tackle this public health issue from a medical point of view. Her role as director is to oversee the ENCOMPASS Omaha program and advocate at the medical and academic levels.
Ashley Farrens, MSN, MBA, RN
Ashley is a violence prevention coordinator with experience working as an emergency department and trauma program nurse. She is passionate about providing supportive care to victims of violence by connecting patients with medical and community resources to navigate a safe recovery after injury.
Alberto Gonzales
Alberto (Beto) is a violence intervention specialist who brings more than 30 years of experience in violence prevention and intervention efforts in the Omaha community. As a "credible messenger," he understands firsthand what it feels like to be a victim lying in a hospital bed after being violently injured and looking to make a change for a better life. He makes contact with patients before they are discharged home and offers ongoing supportive services in their recovery journey. His role helps break the cycle of violence that many patients know all too well.
Ashley Raposo, MPH
Ashley is a statistician for the Department of Surgery with a focus on violence prevention and intervention. She uses her understanding of risk factors and long-term health outcomes of violence to evaluate the program and tell the "statistical story" of our participants.