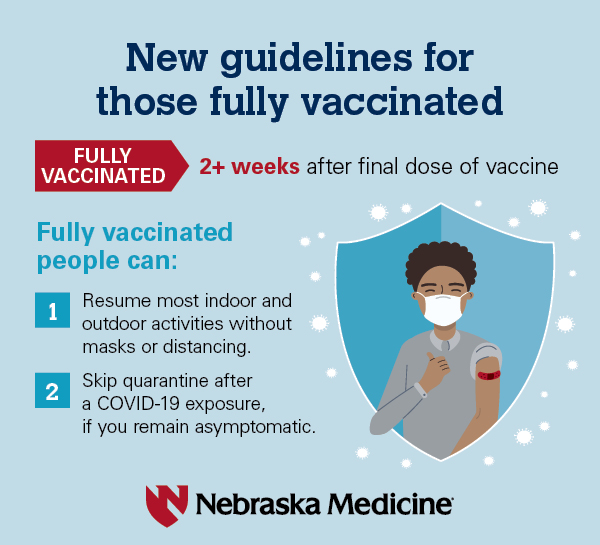 Recently, the Centers for Disease Control and Prevention (CDC) released new guidance for folks who are fully vaccinated.
Fully vaccinated people can now:
Resume most indoor and outdoor activities – without masks or distancing
Skip the quarantine period after a COVID-19 exposure unless they develop COVID-19 symptoms
"The CDC has recognized that the vaccines are very effective in preventing COVID-19 illness. Likewise, increasing amounts of data show that the vaccines are effective in preventing asymptomatic infection and transmission," says infectious diseases expert Mark Rupp, MD.
What does fully vaccinated mean?
The vaccines take time to create protection against COVID-19. You're considered fully vaccinated either:
Two weeks after you've had your second dose of the Pfizer or Moderna vaccines
Two weeks after receiving Johnson & Johnson (Janssen) vaccine (this vaccine is only one dose)
If it hasn't been two weeks after your final dose, you're not fully vaccinated. Continue to mask up and keep 6 feet or more of space around people you don't live with.
Can fully vaccinated people stop wearing masks in public?
In most places, yes. There are a few exceptions, though. Fully vaccinated people are still required to wear a mask on planes, buses, trains and other means of public transportation. That means airports and bus stations, too. Everyone – vaccinated or not – should still wear a mask in hospitals, clinics, long-term care facilities, prisons, jails and homeless shelters. And you'll need to follow any local mask mandates, including business or workplace guidelines. (All patients, visitors and staff are still required to wear a mask when inside Nebraska Medicine hospitals and clinics.)
"Many people in the community have been vaccinated and are now largely protected from this illness," says Dr. Rupp. "However, no vaccine is 100% effective. And some people who are immunosuppressed may not respond to the vaccine. So, it's prudent for some to continue to wear masks and physically distance themselves."
"To get this pandemic behind us, we all need to do our part," Dr. Rupp explains. "Everyone should get vaccinated as soon as possible. Now that a COVID-19 vaccine is authorized for adolescents, we should get our 12 and up children vaccinated, too. Vaccinations mean kids can safely and confidently go back to full in-person school in the fall."
If you're not fully vaccinated yet, continue to:
Wear a mask and social distance in public
Avoid medium and large in-person gatherings
Get tested if you experience COVID-19 symptoms
Avoid domestic and international travel