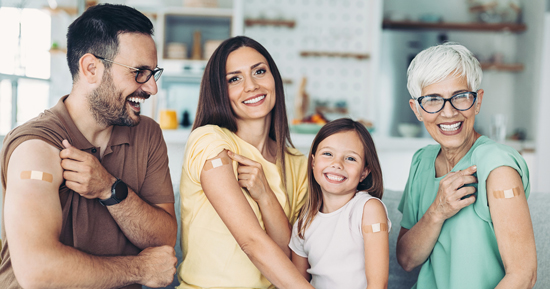 The Centers for Disease Control and Prevention (CDC) have released updated guidelines for COVID-19 booster vaccines. Booster doses are free of charge to anyone who is eligible.
Infectious diseases expert Richard Starlin, MD, says, "The CDC and FDA have expanded access to COVID booster vaccines to those who received the Moderna and J&J vaccines, allowing for a mix and match approach to the booster dose."
"We encourage people in the defined risk groups to receive a booster," says Dr. Starlin. "However, we strongly encourage the unvaccinated population to get their series started as soon as possible."
Who's eligible for a booster?
If you received a Johnson & Johnson COVID-19 vaccine at least two months ago, the CDC recommends that you get a booster shot. 
What if you got a two-dose mRNA series (Pfizer or Moderna)?
If you are 5 or older and received a two-dose Pfizer vaccine, you should get a booster after 5 months
If you are 18 or older and received a two-dose Moderna vaccine, you should get a booster after 6 months
Immunocompromised people age 5 and older are strongly encouraged to get a third dose 28 days after their second dose of an mRNA vaccine. 
Where can I get my booster?
Nebraska Medicine will administer Pfizer booster doses to patients 12 and over who meet the criteria set by the CDC. Schedule a 12+ Pfizer booster dose appointment now. Walk-in Pfizer vaccines are also available at all our pharmacy locations.
Parents of children ages 5 to 12 should connect with their child's primary care doctor to schedule a booster dose for their child. 
At this time, Nebraska Medicine is not administering Moderna or Johnson & Johnson vaccines to patients. If you'd like a Moderna booster, see Douglas County vaccination locations here.
Do I have to get the same vaccine as my original type?
You may choose which vaccine you receive as a booster dose. Some people may have a preference for the vaccine type that they originally received. Others may prefer to get a different booster. CDC recommendations now allow for this type of mix and match dosing for booster shots.
Does this change who's considered fully vaccinated?
The definition of fully vaccinated has not changed. If you've completed your two-dose mRNA vaccine series of Pfizer or Moderna or one-dose of Johnson & Johnson vaccine, you are still considered fully vaccinated.