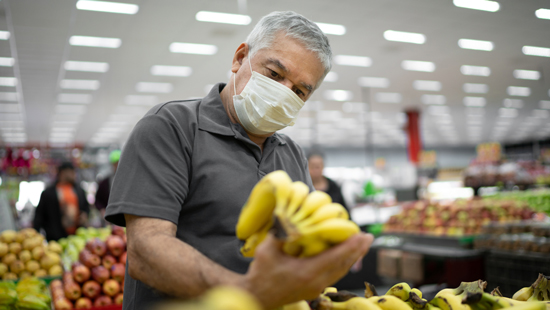 Question:
What kind of face mask will protect my family from omicron? Do we need to start wearing N95 masks?
The best face mask is the mask that fits well:
Face masks should fully cover the nose, mouth and chin
Face masks should not have any gaps around the nose, cheeks or chin that allow air to escape around the mask
Mask materials that have high filtering efficiency in theory work best, but fit is especially important with higher filtration efficiency.
In the hospital, we require that health care workers go through fit testing for each brand of N95 respirator (face mask) that they will wear to make sure that they have an effective fit. A poorly-fit N95 can be worse than a well-fit standard face mask. Many people can get a tight fit and seal for their face with commercially-available N95 or KN95 respirators. 
Surgical and medical procedure masks are made of materials that (again in theory) provide the next-best option in filtration efficiency.
However, several studies have found that a multi-layer cloth mask with a good fit can have effective filtration efficiency that is just as high (or better than a surgical mask with a poor fit).
Cloth masks should be multi-ply (preferably three-ply) and made with cotton or synthetic fabric with a tight weave that still allows airflow through the material. If you can see through the material or blow out a candle through the material, it is probably not a tight enough weave. 
Masks and their straps should fit comfortably – so that the wearer is less likely to remove or adjust frequently. An aluminum, pliable nose piece helps to achieve a good fit around the bridge of the nose. Finally, respirators and masks with valves should not be used, as they do not filter exhaled breath at all.
To summarize, filtering efficiency is highest with N95/KN95 respirators. Surgical masks have a much lower filtering ability than respirators, followed closely by high-quality cloth masks. Fit is the most important factor in a mask's ability to protect yourself and those around you. A comfortable mask with a good fit is your best bet. You may get additional protection with an N95 or KN95 – if you are confident that you are achieving a good fit and seal.