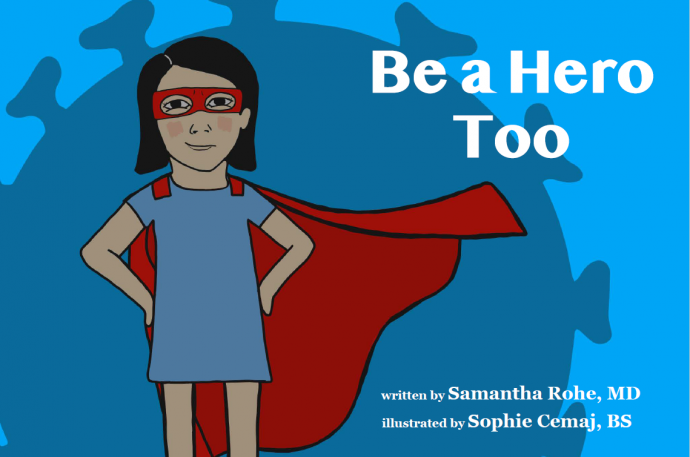 Even though she thought about writing a children's book before, it wasn't until the COVID-19 pandemic that Samantha Rohe, MD, pediatrician at Nebraska Medicine and UNMC assistant professor of Pediatrics, decided to pursue it.
"My 4-year-old son, Henry, had lots of questions," Dr. Rohe says. "Like 'why can't I see the virus?' I decided to create something to help him understand what was happening."
As she worked on her drafts, Dr. Rohe would read them aloud to Henry and make adjustments. She also shared her draft with friends and her sister, who is a teacher, for feedback. Those friends read it to their children, too.
Through mutual acquaintances, Dr. Rohe met Sophie Cemaj, a UNMC medical student, who agreed to illustrate the book for her.
"I've always loved to doodle, but in medical school, I didn't have time for that," Cemaj says. "Dr. Sammy in the book is based on my dad (Samuel Cemaj, MD), a trauma surgeon at Nebraska Medicine/UNMC," Cemaj says. "Dr. Rohe and I worked really well together and were able to pull off making this book in two short weeks," adds Cemaj. "She treated me like an equal throughout the process and that created an environment where we were able to cultivate ideas and apply them to the book."
"The whole idea behind this was to create something for my kids, but also, to create something that could be a resource for our patients and families," says Dr. Rohe.
Dr. Rohe is working to find a platform to self-publish.
For parents concerned about their children's well-being during this uncertain time, Dr. Rohe says communication is key.
"The biggest thing you can do is talk with them," she says. "When my son would ask me questions, I didn't understand how he was perceiving all of this. He thinks everything in his life is related to the coronavirus. For example, he thought he could get coronavirus for getting in trouble or getting a timeout." Dr. Rohe hopes this book helps parents talk to their kids.
You can download a personal copy of the PDF here: