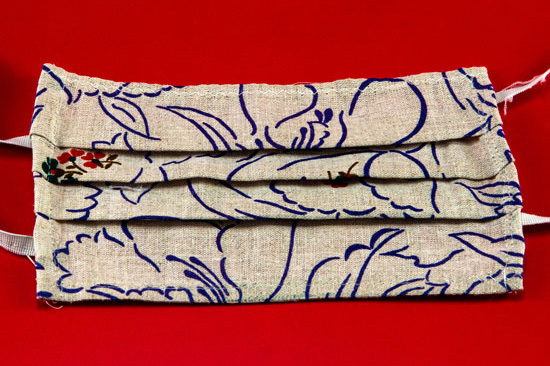 As you may have heard, the Centers for Disease Control and Prevention (CDC) released updated guidelines April 3, advising Americans to wear cloth face coverings when out in the community. The guidelines target areas with significant community spread and where social distancing is difficult (like a grocery store). The goal is to minimize the spread from asymptomatic people (who have the COVID-19 illness, but show no symptoms) and presymptomatic people (who are infected, but aren't showing symptoms yet).
Put another way, wearing a fabric or homemade mask isn't likely to offer you much protection from the coronavirus. But wearing a mask to protect others – especially if you're asymptomatic or presymptomatic – may help slow the spread.
If you choose to wear a face mask, reduce risks to your health by following these rules:
Use a fabric mask for no more than four hours at a time, then wash in hot water and dry thoroughly before using it again.
Put the mask on (don) after washing hands for 20 seconds with soap and water.
Wash hands again after removing (doffing) the mask. Do not touch the outside front part of the mask as the area is likely to be contaminated.
You must still practice social distancing and hand washing if you wear a mask. Masks are not absolutely effective and do not allow you to be less vigilant about staying safe!
Wearing a mask may seem harmless, but there are risks.
Your mask could infect you
If you're healthy and want to wear a mask in public, you can. But please take care to protect yourself. Avoid the two main risks with masks:
Self-contamination: During "donning and doffing" (putting on and taking off) the mask, there's a danger of self-contamination. Unless you put on and take off the mask safely, your mask could infect you with the coronavirus. You could also contaminate your face while you adjust your cloth (or any) mask. Watch our brief video to see how to properly don and doff a face mask
Germs love moisture: Moisture from breathing into the mask surface can make it a more hospitable environment for germs, including potentially the coronavirus, to settle into the mask material. Be sure to clean your mask before wearing it again. Find out how to create, wear and clean face masks by following these CDC guidelines
Who should wear a mask?
People with COVID-19 symptoms. People with symptoms should not go out in public, and they should wear a mask whenever someone enters the room
Asymptomatic people who must be within six feet of others. Follow the instructions above to avoid self-contamination
People caring for COVID-19 patients at home. If you're caring for someone who's sick, you should wear surgical masks, or cloth masks if surgical masks are not available
Do not buy or wear N95 respirator masks
N95 masks must be reserved for healthcare workers who are performing procedures or in close contact with COVID-19 patients. Other health care workers and non-clinical staff will wear a hospital-provided mask.
Frontline health care workers use masks and other personal protective equipment (PPE) to stay healthy so they can care for sick patients in clinics and hospitals. There's a nationwide shortage of PPE supplies, including N95 respirator masks and paper surgical masks.
We strongly discourage anyone from hoarding surgical or N95 masks intended for healthcare workers, as well as hand sanitizer or other essential PPE supplies. This is your essential duty in protecting our health care system so it can provide care to the whole community.
If you've purchased medical face masks or hand sanitizer, please consider donating them to protect health care workers. Find out how to donate supplies.