The PGY2 Pharmacy Residency in Infectious Diseases (ID) at Nebraska Medicine offers a unique and stimulating learning environment that provides comprehensive clinical training in antimicrobial stewardship and infectious diseases pharmacy practice. Each resident completing this program will become a competent pharmacy practitioner in the care of patients with infectious diseases by gaining knowledge, confidence, time management, expertise in complex problem solving, and critical thinking skills for patient care. The goals and objectives for this program are aligned with the ASHP Infectious Diseases PGY2 Accreditation Standards to develop clinical specialists in antimicrobial stewardship and infectious diseases pharmacy practice.
Purpose: PGY2 pharmacy residency programs build on Doctor of Pharmacy (Pharm.D.) education and PGY1 pharmacy residency programs to contribute to the development of clinical pharmacists in specialized areas of practice. PGY2 residencies provide residents with opportunities to function independently as practitioners by conceptualizing and integrating accumulated experience and knowledge and incorporating both into the provision of patient care or other advanced practice settings. Residents who successfully complete an accredited PGY2 pharmacy residency are prepared for advanced patient care, academic, or other specialized positions, along with board certification.
The resident will be integrally involved with health-care professionals throughout the continuum of patient care, including patient assessment, education, and therapeutic recommendations. Working with experienced pharmacy clinicians, the resident also will gain experience serving as a preceptor for pharmacy students and mentoring PGY1 pharmacy residents. Residents will provide compassionate, progressive, evidence-based medical care. The program allows tailored instruction for the individual based on interest and past experiences.
Residents participate in all aspects of our comprehensive pharmacy services including:
Multidisciplinary medical team rounding
Nationally-recognized Antimicrobial Stewardship Program
Development of clinical pathways and protocols
Assessment of core metrics and patient outcomes
Automatic consults for pharmacokinetic dosing of antibiotics
Use of Bayesian dosing software and therapeutic drug monitoring
Education of patients and health care professionals
Teaching pharmacy students and being a preceptor
Rotations
Rotations are designed to integrate clinical practice, teaching, and research. Throughout the year, residents participate in several longitudinal experiences to further enhance their training and have the option to complete several additional activities to enhance their learning.
Required rotations
Orientation to Antimicrobial Stewardship and Clinical Microbiology (July)
General Infectious Diseases - Teaching Service (3 months)
Antimicrobial Stewardship (2 months)
Antimicrobial Stewardship Outreach  (1 month)

Community Hospital and Long-Term Care Facility support in collaboration with staff from Nebraska Dept. of Health and Human Services

Orthopedic Infectious Diseases and Outpatient Parenteral Antimicrobial Therapy Program (1 month)
Oncology Infectious Diseases  (1 month)
Transplant Infectious Diseases (1 month) 
Research Project (December and Longitudinal)
Elective rotations
Pediatric Infectious Diseases
Immunocompromised Infectious Diseases (Additional month of Oncology or Transplant ID Service)
Longitudinal experiences
HIV Ambulatory Care Clinic
Medication Use and Policy (MUE and formulary review)
Pharmacy Practice and Management (includes staffing Antimicrobial Stewardship Program)
Teaching and Pharmacy Grand Rounds
Additional opportunities
Biocontainment training exercises
Pharmacy informatics sessions
Leadership development series and resident retreat
Committee involvement
Journal Club and Case Conferences with Infectious Diseases Division
Practice area
Nebraska Medicine is the clinical partner of the University of Nebraska Medical Center (UNMC), which includes the Colleges of Medicine, Pharmacy, Nursing, Dentistry and Allied Health. With an enrollment of over 4,000 students, UNMC is the only public academic health science center in Nebraska and is internationally recognized as a leader in patient care, research and education. The not-for-profit hospital is known for excellence and innovation in medicine.
Nebraska Medicine is licensed for 809 beds between its two campuses and is a Comprehensive Level One trauma center. The resident will be based on the main academic campus of The Nebraska Medical Center. As the primary teaching site for UNMC, Nebraska Medicine is a respected leader in blood and marrow transplantation, cardiac and vascular services, oncology, neurosciences and solid organ transplantation. Nebraska Medicine and the UNMC Division of Infectious Diseases are nationally recognized for their work in antimicrobial stewardship and biocontainment.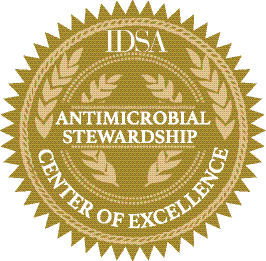 In addition to being one of three sites to care for Ebola virus patients in the United States, Nebraska Medicine is recognized as an IDSA Center of Excellence for Antimicrobial Stewardship and is well known for the clinical practice tools shared on the institution's Antimicrobial Stewardship Program. Recently, Nebraska Medicine established a Remote Antimicrobial Stewardship Support Program to assist small hospitals in the region implement core elements of a successful program. This builds on the success of the Antimicrobial Stewardship Assessment and Promotion (ASAP) outreach program developed with the Nebraska Department of Health and Human Services to provide support for starting antimicrobial stewardship programs at critical-access hospitals and long-term care facilities. This service was started through a grant from the Centers for Disease Control and Prevention. 
"The strengths of this program are in the dedication of preceptors to training highly-capable pharmacists along with the many areas of specialization that give each resident a variety of experiences."
- Andrew Watkins, PharmD 2019-20 PGY2 Infectious Diseases Resident at Nebraska Medicine
From the critically ill neonate to the cancer patient undergoing blood and marrow transplantation, the working relationship between Nebraska Medicine and the UNMC College of Pharmacy provides a solid foundation for a quality pharmacy residency. By combining state-of-the-art research, education and exceptional patient care, we offer the best of both academic and clinical practice.
The program provides an excellent mixture of clinical experiences, and one-on-one interaction with faculty or clinical preceptors plus the flexibility to modify the program to individual needs. In addition, the residency provides many opportunities for educating students and being a preceptor students. The end results in pharmacy training actively involving the resident in patient care, leadership, education and research.
Unique opportunities
Biocontainment training
Home to the newly built National Quarantine Unit at the Davis Global Center for Health Security, UNMC has led the world in care of patients with COVID-19. After monitoring evacuees of the Diamond Princess cruise ship, the first patients in the NIH study of remdesivir were enrolled at Nebraska Medicine. The PGY2 infectious diseases resident will have the opportunity to work with international experts and guideline authors to take care of patients. 
Pharmacy informatics
Our Antimicrobial Stewardship Program works with several pharmacists who specialize in informatics to improve clinical decision support. Nebraska Medicine utilizes the Epic Bugsy module to manage infection control and antimicrobial stewardship functions. The PGY2 infectious diseases resident will have the opportunity to collaborate with the pharmacy informatics specialists on projects and learn the logic which is used to improve clinical efficiency and reports. 
Leadership development series
Residents are future leaders in the profession. PGY2 residents at Nebraska Medicine are highly encouraged to attend leadership development meetings with the PGY1 residents. Residents will lead article discussions regarding leadership philosophies from many aspects of life. Residents will read and discuss selected essays from the Harvey Whitney Award Lectures. Residents are encouraged to assess their own leadership philosophy/style and use the residency year as a way of further developing their leadership skills.
Fall resident retreat
Each year a resident retreat is arranged to provide each resident the opportunity to participate in team building. Lectures will be provided on various topics including but not limited to the following: communication, leadership, personal growth, ethics, finance, stress management and personality traits. This is a very rewarding experience and is an overnight event, typically held at the Lied Lodge in Nebraska city, the home of Arbor Day.
Committee involvement
Infectious disease residents actively participate in both Pharmacy Department and Antimicrobial Stewardship Committees. Pharmacy department assignments are based on preference and PGY2 residents serve as secretaries for these committees. In the past, Infectious disease residents have enjoyed contributing to the Patient Safety Council and Pharmacy Intern Clinical Training Program in addition to weekly ASP meetings. 
Research project
Residents are required to develop and complete a research project. Residents will select a research topic based on their clinical interests. Faculty and clinical staff will present project ideas during orientation. An appropriate preceptor will be selected to guide and supervise the resident. Residents will develop a formal research proposal. If necessary, the resident will submit the proposal for IRB approval. A completed research project form, formal proposal, completed IRB (if required), oral presentation at the Midwest Pharmacy Residency Conference and final written manuscript are required for successful completion of the project.
Participation at the professional conferences 
Each resident is expected to attend the Society of Infectious Diseases Pharmacists Annual Meeting and IDWeek Scientific Assembly. If previous research is related to infectious diseases, incoming residents are encouraged to submit their projects as an abstract to be presented the year they start PGY2. The goal is for each ID resident complete their PGY2 research and submit it for presentation at a national meeting the year they graduate. At a minimum, they are required to attend and present PGY2 research findings at the Midwest Pharmacy Residents Conference (MPRC) held each spring, unless an alternative presentation is approved by their program director. There each resident in the program will make a brief presentation on their project which will be evaluated by a preceptor from within or outside of the program.
Pharmacy grand rounds
Each PGY2 resident presents one formal Category 1 Continuing Medical Education (CME) accredited seminar during the residency program. Grand Rounds are scheduled weekly between September through June (excluding portions of December and February). The goal of the seminar is to improve the resident's communication skills and techniques, literature evaluation and understanding of the continuing education process. PGY2 pharmacy residents go first to be model these skills for the PGY1 residents and students in the audience. The topic will be selected by the resident with guidance from the RPD, or pharmacist preceptor. 
ID journal club
Journal clubs are held monthly for infectious diseases, infection prevention, antimicrobial stewardship and clinical microbiology personnel. Residents will participate in these regularly and present at least one Journal Club formally during the residency year to staff and faculty. This will include a self-evaluation and a formal evaluation. Residents may be asked on rotations to formally present additional journal articles that pertain to the care of patients.
ID case conference
There is a citywide infectious diseases case conference held weekly at hospitals in Omaha.  The resident will attend regularly to learn from the infectious diseases physicians and trainees. These cases revolve around unusual infection topics, and include primary literature review for a case in which the presenting resident or fellow was directly involved.
Teaching certificate program for pharmacy residents
This is voluntary for PGY2 residents, but strongly encouraged if the PGY2 resident did not complete a teaching certificate program as a PGY1. The Teaching Certificate Program will allow the resident to participate in a wide-variety of activities related to pharmacy education and explore the external forces that impact the educational process. The focus is to introduce pharmacy residents to the many aspects involved in teaching including both didactic and clinical instruction. Residents will gain a broad understanding of pharmacy education on an institutional and national level. Residents will develop their own teaching portfolio and teaching philosophy.
Participation in teaching activities
Resident involvement in all teaching activities fosters the development and refinement of the resident's communication skills and knowledge base. This experience can build confidence and promote the effectiveness of the resident as a teacher. Residents will serve as co-preceptors for pharmacy students on clinical rotations and are expected to act as role models for our future practitioners. In addition, residents will collaborate with the UNMC College of Pharmacy by participating in activities including didactic lectures, pharmacy skills laboratory workshops, case studies and small group discussions throughout the year. In all circumstances, each resident will work under the guidance of a preceptor and experienced faculty member. These activities will occur even if not enrolled in the Teaching Certificate Program for Pharmacy Residents.
Chief pharmacy resident
The chief pharmacy resident is a specialty pharmacy resident (PGY2) who coordinates and keeps track of activities associated with all concurrent pharmacy residents. The chief resident also provides leadership, support and encouragement to all residents as a peer in clinical practice. The chief pharmacy resident serves as the secretary on the Residency Advisory Committee (RAC) and works closely with all program directors.
Patient care staffing
PGY2 residents are required to fulfill a service commitment (staffing) designed to ensure that new practitioners gain enough experience to function as competent clinical specialists. Orientation will take place during the first month of residency and each resident will train with qualified preceptors. At the conclusion of the orientation period, the designated preceptors and the resident will mutually determine if the resident is ready to function independently as a pharmacist.
As part of the service commitment for PGY2 residents, the following staffing requirements apply:
I.      The PGY2 Infectious Diseases resident will staff 32 shifts (i.e. every third weekend)
II.     PGY2 resident must work two holidays
III.    Staffing will occur primarily in the resident's specialty area of training: the antimicrobial stewardship program
Benefits
Salary and paid time off (PTO)
PGY2 residents will receive a stipend of $48,900
Residents will be given 12 days for vacation and sick time during their 12-month program.
Benefits
Health insurance: comprehensive medical, dental and vision care coverage effective July 1.
Basic life insurance and long term disability coverage.
Residents each receive one complimentary lab coat.
Funding for professional meetings
Financial support will be provided to each  PGY2 resident attending the Fall Resident Retreat, ASHP's Midyear Clinical Meeting, Society of Infectious Diseases Pharmacists Annual Meeting/IDWeek Scientific Assembly, and the Midwest Pharmacy Residents Conference. Funding for additional meetings may be provided at the discretion of the director of Pharmaceutical and Nutrition Care.
Educational leave
The program provides the following days of required educational leave which are not deducted from the resident's PTO allotment.
Resident Fall Retreat (two weekdays)
ASHP Midyear Clinical Meeting (up to four weekdays)
SIDP Annual Meeting/IDWeek Scientific Assembly (four weekdays)
Midwest Pharmacy Residents Conference (two weekdays)
Nebraska Medicine PGY2 general residency requirements
Residents will be required to perform and participate in a number of activities throughout the year. These activities are designed to assure compliance as outlined in the ASHP Required Competency Areas, Goals, and Objectives for Postgraduate Year Two (PGY2) Pharmacy Residencies and the ASHP Accreditation Standard for Postgraduate Year Two (PGY2) Pharmacy Residency Programs.
In addition to the expectations outlined in the accreditation standards, the residents are expected to:
Uphold and adhere to all standards of the pharmacy profession
Uphold and adhere to the iTEACH Values and policies of Nebraska Medicine 
The following activities are required for successful PGY2 program completion:
Residents shall complete required residency orientation and training
Residents shall complete a minimum of two-thirds (2/3) of the residency as a pharmacist licensed to practice pharmacy in the state of Nebraska
Residents shall maintain BLS certification 
Residents shall complete required service commitment duties (e.g. staffing) 
Residents shall participate and complete required patient care activities (e.g., documentation, counseling, drug therapy management, safety incident reporting, etc.)
Residents shall complete evaluations in PharmAcademic, quarterly development plans and other evaluations as assigned in a timely manner
Residents shall complete all scheduled rotations and assignments (required, longitudinal, and elective)
Residents shall attend assigned residency, departmental and Nebraska Medicine meetings
Residents shall present and participate in the Residency Leadership Development Series (at the discretion of the program director)
Residents shall attend and participate at the annual Residency Fall Retreat, unless excused
Residents shall present and participate in journal clubs 
Residents shall present and attend Pharmacy Grand Rounds (PGR) seminars
Residents shall participate in PGY2 program specific seminars and topic discussions 
Residents shall attend and participate at the ASHP Midyear Clinical Meeting/Vizient University Health Consortium Pharmacy Network Meeting (at the discretion of the program director)
Residents shall participate in all residency recruitment activities, including residency interviews (at the discretion of the program director)
Residents shall participate in the teaching of P4 pharmacy students on clinical rotations
Residents shall participate in teaching activities at the UNMC College of Pharmacy
Residents shall complete a research project designed to improve the services of the department and/or contribute knowledge to the pharmacy profession
Residents shall complete a research project manuscript suitable for publication
Residents shall complete a medication use evaluation (MUE) and disseminate the results to the appropriate audience 
Residents shall present their research project at the Midwest Pharmacy Residents Conference (at the discretion of the program director)
Residents shall complete a teaching certificate program (at the discretion of the program director)
Residents shall submit their electronic portfolio by end of residency 
Qualifications of resident applicants
Qualifications for participation in Nebraska Medicine PGY2 Residency Program are in accordance with criteria set forth by the American Society of Health-System Pharmacists (ASHP).
Resident applicants shall be graduates of an Accreditation Council for Pharmacy Education (ACPE)-accredited doctor of pharmacy degree program.
Residents shall have completed an accredited PGY1 pharmacy residency program.
Resident applicants must be licensed or eligible for licensure as a pharmacist in the state of Nebraska. Licensure must be obtained by July 31.
Resident applicants shall participate and adhere to all rules of the ASHP Resident Matching Program Process.
Application information
Candidates are required to complete and submit an online electronic application through PhORCAS. No hardcopy applications will be accepted. Please review the application agreement below to proceed to the PhORCAS website.
Please refer to PhORCAS for the application deadline.
Required application materials include the following:
Letter of intent (addressing program specific questions)
Curriculum vitae
Pharmacy school transcripts
Three PhORCAS standardized references
 Program specific application information for PhORCAS are as follows:
Include an example of recent work as a supplement application, e.g. midyear poster, if presented. Otherwise another example of a professional presentation or project is acceptable
Uploading a professional photo to PhORCAS is optional
Letter of intent
A one-page letter of intent addressed to Scott Bergman, PharmD, FCCP, FIDSA, BCPS, BCIDP. In this letter, please address the following (in any order):
1.    Why are you choosing to complete an ID pharmacy residency?
2.    Why would you like to pursue a residency at Nebraska Medicine?
3.    How do you feel this PGY2 experience will influence your career?
4.    Describe one situation in which you influenced a patient's medical therapy.
Curriculum vitae
Your curriculum vitae must include (if applicable) a minimum of:
Work experience
Leadership experience
Organizational involvement and positions held
Philanthropy/community service
Presentations
Honors/awards
Research experience/publications
Rotational experiences
 PhORCAS standardized references
Three standard references are required through PhORCAS
Two of the references must be from clinical preceptors who can attest to your abilities as a pharmacy professional, commenting on your character, personality, dependability, professionalism and clinical abilities
Ideally, one should be from your PGY1 residency program director
After receipt of all application materials above, applicants will be reviewed and a select number of candidates will be invited for a required onsite interview.
Applicant agreement
The applicant applying through the Pharmacy Online Residency Application Service (PhORCAS) acknowledges and agrees to the following:
I certify that the information contained in the PhORCAS application is true to the best of my knowledge and belief. I understand that any omission of facts or misrepresentation is cause for denial of employment and/or dismissal (if hired) regardless of when discovered.
I grant permission for the authorities of Nebraska Medicine to investigate my work references and release them and any former employer from any and all liability resulting from such investigation. Upon my termination, I authorize the release of reference information on my work.
I agree to submit to a post-offer physical, including drug and/or alcohol screening and recognize employment is contingent upon successfully meeting physical requirements.
I further agree that if I've been convicted of a crime, the authorities of Nebraska Medicine may obtain the details of my conviction to determine its relationship to the position I'm applying for as a condition of my employment.
In consideration of my employment, I agree to conform to the rules and regulations of Nebraska Medicine. My employment may be terminated, with or without cause, at any time, at the option of Nebraska Medicine or myself. I certify that the information submitted in this application is complete and correct to the best of my knowledge and belief. I grant Nebraska Medicine permission, if necessary, to request additional information from previous schools and employers concerning my academic record and professional ability.
You will be required to obtain a Nebraska license by July 31.
Federal law requires evidence of identity and employment eligibility upon hire.
Nebraska Medicine is an EOE/AA Employer
Continue to the PhORCAS website
Contact
Scott Bergman, PharmD, FCCP, FIDSA, BCPS, BCIDP
Pharmacy Coordinator – Antimicrobial Stewardship
PGY2 Infectious Diseases Pharmacy Residency Program Director
Nebraska Medicine
981090 Nebraska Medical Center
Omaha, NE 68198-1090
Phone: (402)-559-4149; Fax: (402) 559-3000
Email: scbergman@nebraskamed.com