Chief Resident (July - June)
Since 2007, the Chief Resident position has supported the mission, vision and growth of Nebraska Medicine's PGY1 and PGY2 pharmacy residency programs. Serving as secretary to the residency advisory committee, the chief resident fosters resident growth and development in leadership and communication skills, while also functioning as a mentor and advocate for current residents.
In recognition of excellence in service and leadership, we show our sincere appreciation to current and past chief residents for their unwavering commitment to residency training.
Current Chief Resident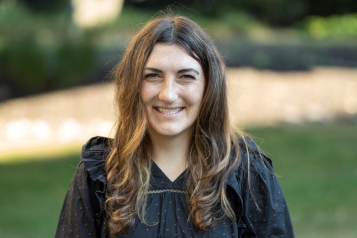 2023 – 2024: Katherine Kessel, PharmD  
Past Chief Residents
2022 – 2023: Olivia Collins, PharmD
2021 – 2022: Bailey Buenger, PharmD, BCCCP
2020 – 2021: Jessica Prucha, PharmD, BCCCP
2019 – 2020: Brooke Deason, PharmD, BCOP
2018 – 2019: Taylor Monson, PharmD, BCOP
2017 – 2018: Jared Matya, PharmD, BCOP
2016 – 2017: Meagan Eley, PharmD, BCPS
2015 – 2016: Heath Oetken, PharmD, BCCCP
2014 – 2015: Megan Johnson, PharmD
2013 – 2014: Ashley Hacker, PharmD, BCOP
2012 – 2013: Christopher Arp, PharmD, BCOP
2011 – 2012: Lori Huang, PharmD, BCCCP
2010 – 2011: Rachel McKenzie, PharmD, BCCCP
2009 – 2010: Greg Peitz, PharmD, BCCCP
2008 – 2009: Jill Kestel, PharmD, BCOP
2007 – 2008: Tammy Winterboer, PharmD, BCPS
 
Research (July - June)
Residents are required to complete a major research or quality improvement project
Preceptors will present project ideas during orientation
Residents will develop a formal research proposal
Residents will present their research project (poster, podium or virtual) at a RAC approved venue determined on a yearly basis
Completion of a manuscript suitable for publication in a peer-reviewed journal under the guidance of the resident's preceptor is required
Residents will participate in research focus groups (spring) for research project idea development for the incoming residency class
Pharmacy Grand Rounds (PGRs) (July - May)
Residents will prepare and present approved continuing education (Accreditation Council for Pharmacy Education (ACPE) and AMA PRA Category 1 Credit™ ) to faculty, staff, students, physicians, physician assistants, nurses, and advance registered nurse practitioners
PGRs are scheduled between August and May (excluding portions of December through March)
The goal of each PGR is to improve the resident's communication skills, literature evaluation techniques, and gain an understanding of the continuing education process
Topics will be selected by the resident with guidance from their PGR residency preceptor
PGY1 and PGY2 residents will present one PGR in the fall
PGY1 residents will present one PGR in the spring
Teaching Certificate Program (PGY1s) (August - May)
PGY1 residents are required to complete a teaching certificate program (voluntary for PGY2 residents)
The focus is to introduce residents to the many aspects involved in teaching including didactic and clinical instruction
Residents will develop their own teaching philosophy and portfolio
Participation in Teaching Activities (August - June)
Residents will have opportunities to co-precept pharmacy students on clinical rotations
Residents will be able to collaborate and participate in various activities with the UNMC College of Pharmacy including in-services, didactic lectures, case studies, journal clubs, and pharmacotherapy lab facilitation
Project Days (August - June)
A project day is used to work on activities assigned in longitudinal learning experiences of the residency, including, but not limited to research, pharmacy grand rounds presentations, case-conferences, journal clubs, evaluations, and other assignments or projects given by the residency program director (RPD), assistant residency program director (ARPD) or preceptor(s)
PGY1 residents will be given eight project days which can be used during the months of August, September, November, January, February, March, April, and June.
PGY2 residents are given a predetermined number of project days to be used outside of the month of December based on PGY2 RPD preference and will follow their respective PGY2 RPD guidance for project day use
Volunteer Opportunities (August - June)
Residents may volunteer at the Sharing Clinic, a student run clinic serving the underserved of the Omaha community
The clinic is staffed by medical, pharmacy, physician assistant, physical therapy, and clinical lab students, and is overseen by a physician and other licensed providers
Residents electing to participate will serve as a pharmacist precepting pharmacy students in attendance
Additional opportunities to volunteer in other venues may occur throughout the year
Related Links: