Inclusion, diversity, equity and belonging are top priorities for Nebraska Medicine. Extraordinary care requires a deep commitment to providing culturally authentic care for all of our patients, who come from local, state, national and global communities. 
As a proud signatory of the American Hospital Association's #123forEquity campaign, we strive to eliminate health disparities. To do so, we use data to inform decisions related to policies and practices. We're also building a diverse workforce that represents the rich diversity of the communities we serve.
 
Our mission, vision and values
Our ITEACH Values call upon us all to examine how our individual contributions enable us to collectively offer extraordinary care to our patients and one another. 
We commit to:
Ensuring that all voices are valued
Embedding equity-based practices and principles throughout our organization
Embracing, supporting, and affirming the rich diversity of our community
Focusing on diversity across our organization is not enough. Inclusion at Nebraska Medicine is working across difference and valuing the ideas and contributions of all members of our community. Inclusion means that our workforce, our patients and their families, and members of our community know that they belong at UNMC and Nebraska Medicine. 
Our three inclusive environment core principles: 
Create a climate and culture that affirms the individual identities of our workforce, our patients and families, and our community
Build meaningful partnerships with community partners to foster authentic engagement 
Use a data-driven approach to creating a more equitable health system

Why do we ask for gender, ethnicity and race?
For patients: Nebraska Medicine patients can share a bit about who they are in the registration process. We will ask you for your race, ethnicity, age, preferred language, ability status, sexual orientation and gender identity. Accurate information helps us give you the best care and reduce health disparities. We want to care for you as a whole person and serve our diverse community well.
For our employees: Nebraska Medicine colleagues can also share their race, ethnicity, ability status, preferred language, sexual orientation and gender identity. We want to honor every colleague by using appropriate pronouns and preferred names. We aim to create an environment that addresses and respects the rich diversity of our growing workforce.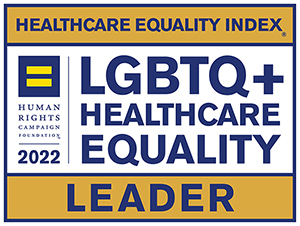 The Human Rights Campaign, America's largest civil rights organization working to achieve equality for lesbian, gay, bisexual and trans* (LGBT) folks, designated Nebraska Medicine as a Top Performer.