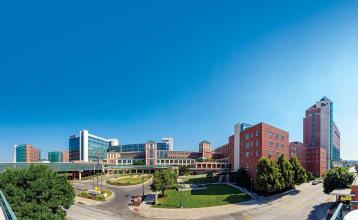 Nebraska Medicine includes Nebraska Medicine – Nebraska Medical Center, Nebraska Medicine – Bellevue and 40 outpatient clinics, providing patients with access to more than 1,000 physicians and 809-licensed hospital beds in Omaha and Bellevue.
Nebraska Medicine is the primary clinical teaching partner for the University of Nebraska Medical Center (UNMC), which allows patients to benefit from one of the nation's leaders in cutting-edge research and education. Many Nebraska Medicine physicians trained at and now teach at UNMC. Together, the two organizations have approximately 12,000 employees, making it the largest employer in Omaha.
Nebraska Medicine was first formed by the 1996/1997 merger of Clarkson and University hospitals, which created the Nebraska Health System (NHS). Before the merger, Clarkson Hospital, founded in 1869, and University Hospital, founded in 1917, had each established themselves as leaders in health care. Because Clarkson Hospital was founded in 1869, Nebraska Medicine is the oldest medical center in the state.
In 2003, the NHS changed its name to The Nebraska Medical Center – which is the state's largest and highest-rated hospital. Seven years later, the organization opened Bellevue Medical Center – a full-service hospital in Sarpy County. UNMC Physicians, a clinical practice group that dates back to 1971, also operated several outpatient clinics in the area.
In October 2014, it was publicly announced that The Nebraska Medical Center, Bellevue Medical Center and UNMC Physicians would operate under one name: Nebraska Medicine. The move clinically integrated the three organizations, which sees more than 500,000 patient visits yearly. Specific locations are identified individually, for example: Nebraska Medicine – Nebraska Medical Center; Nebraska Medicine – Bellevue; Nebraska Medicine – Village Pointe; Nebraska Medicine – Eagle Run; etc.
With the clinical integration, Nebraska Medicine and UNMC decided to share a new logo to more closely align the two organizations. However, UNMC, which is a public state university, still remains a separate entity from Nebraska Medicine, a non-profit health system. The two organizations worked together on the $323 million Fred & Pamela Buffett Cancer Center, the largest project in campus and state history, which opened in June 2017.
Several state "firsts" happened at Nebraska Medicine, including the first kidney transplant (1964), bone marrow transplant (1983), liver transplant (1985), heart transplant (1985), heart-lung transplant (2017), adult-to-adult living related liver transplant (2001) and unrelated living liver transplant (2001). Nebraska Medicine also performed the first "frozen elephant trunk" heart procedure in the U.S. (2006).
In 2014, it became one of three hospitals in the nation to have successfully treated patients with the Ebola virus. Nebraska Medicine is currently one of four places in the U.S. to have a specialized Biocontainment Unit, designed for the treatment of highly infectious diseases. The U.S. Department of Health and Human Services awarded Nebraska Medicine and UNMC $20 million to develop a training, simulation and quarantine center to train federal personnel on procedures in treating highly infectious diseases.
Nebraska Medicine is nationally recognized in cardiology, neurology and oncology. It has an international reputation for providing bone marrow and stem cell transplantation services. It's home to one of the most reputable and well-known solid organ transplant programs in the country, performing thousands of heart, liver, kidney, pancreas, intestinal and lung transplants. Nebraska Medicine is also a comprehensive Level 1 trauma center, providing 24/7 care to adult and pediatric patients.
U.S. News and World Report has ranked Nebraska Medicine the #1 hospital in Nebraska for six years in a row. Becker's Hospital Review has included it on its prestigious list of the "100 Great Hospitals in America," recognizing Nebraska Medicine as one of the most prominent, forward-thinking health care facilities in the nation. Nebraska Medicine also received Vizient's 2016 and 2017 Bernard A. Birnbaum, MD, Quality Leadership Award, placing it nationally among the top ten academic medical centers for providing a high level of quality patient care and safety.