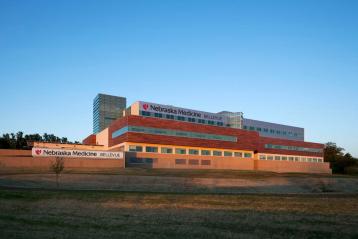 Bellevue Medical Center is a community hospital committed to healing and preventive health care services that support the long-term health and well being of the residents of Bellevue and the surrounding area. The medical center includes 24-hour emergency care, inpatient and outpatient surgery, intensive care, cardiology services, cancer services, Ear, Nose and Throat (ENT) services, orthopaedic services and outpatient therapy, a pharmacy, radiology, diagnostic and lab testing as well as 91 private inpatient suites.
Adjacent to the hospital is the 60,000 square foot Bellevue Health Center (previously Bellevue Medical Office Building) that houses family medicine and specialty physicians. The building further enhances patient care and convenience by providing clinics and state-of-the-art diagnostic services to assist physicians in providing prompt diagnosis and treatment.
Bellevue Medical Center first opened its doors in 2010. In October 2014, it was publicly announced that The Nebraska Medical Center, Bellevue Medical Center and UNMC Physicians would operate under one name: Nebraska Medicine. The move clinically integrated the three organizations, which sees more than 500,000 patient visits yearly.
Building Bellevue Medical Center was a collaborative project between community members, physicians, nurses and administrative staff. This cooperative model was inspired by the vision of Bellevue practitioner Roy Holeyfield Sr., MD, who originally approached Nebraska Medicine about partnering with physicians in a similar project. Plans for the community hospital further evolved with the closure of Ehrling Bergquist Hospital at Offutt Air Force Base, which is one of the United States Air Force's family physician training facilities.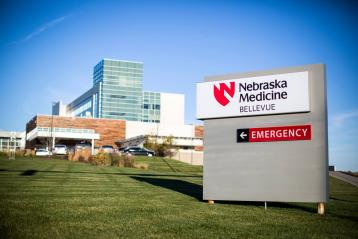 From the earliest stages, physicians and nurses played a significant role in hospital planning, technology and patient care models. Energy efficiency and environmental friendliness are important themes in the building as well, making it one of the most energy efficient hospitals in the Midwest. This eco-conscious theme has been carried throughout the entire facility, from the design to the use of natural resources to create a soothing environment that not only enhances healing but also promotes a general sense of health and well being.
The hospital building has been designed to meet LEED (Leadership in Energy and Environmental Design) certification, the recognized standard for achieving specific design and construction practices that meet some of the highest performance standards possible for energy efficiency and environmentally friendly practices.
In 2014, Bellevue Medical Center formed a working partnership with Madonna Rehabilitation Hospitals, which provides inpatient rehabilitation services for individuals with complex medical conditions. While Madonna's new Omaha campus was under construction, they opened a 32-bed hospital unit on the fourth floor of Bellevue Medical Center. Once Madonna's Omaha campus was completed in 2016, the beds were transferred back to Bellevue Medical Center for inpatient utilization.
In May 2017, Bellevue Medical Center was inducted into the Sarpy County Business Hall of Fame, a program that recognizes those who work to make Sarpy County grow and prosper. In addition, Bellevue Medical Center is a certified Primary Stroke Center by The Joint Commission and a certified Chest Pain Center by The American College of Cardiology.