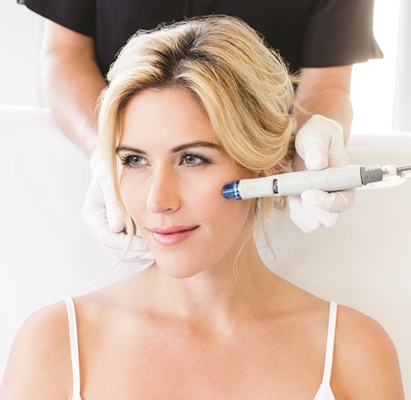 Do you have 30 minutes to improve the health and appearance of your skin? If so, a HydraFacial may be the skin treatment for you.
A HydraFacial is a hydradermabrasion facial procedure that cleanses, exfoliates, extracts, hydrates and replenishes the skin with antioxidants, peptides and hyaluronic acid. "It can help reduce fine lines, wrinkles, enlarged pores, oily or acne-prone skin, hyperpigmentation and brown spots," says Jessica Murdock, esthetician at Dreams MedSpa, located just west of the Village Pointe shopping center. "When done regularly, the treatment can help improve the appearance and long-term health of your skin."
Quick, No Downtime and Real Results
"One of the best things about the HydraFacial," notes Murdock, "is that the treatment is done in our office and takes about 30 minutes. You can go on about your day after you leave the office."
Unlike other facial treatments, HydraFacial's unique Vortex-Fusion® technology gently ablates the top layer of skin and painlessly extracts stubborn blackheads and bacteria. At the same time, it cleanses and infuses the skin with treatment-specific serums designed to improve improve the appearance of your skin by targeting your skin concerns.
"It's more advanced than a chemical peel, but without the harsh side effects and downtime," says Murdock. "Rarely, some may experience pinkness in their skin tone afterwards, but it typically dissipates within 20 minutes of the treatment.You can apply cosmetics to your face right after the treatment as well."
You can receive a HydraFacial once a week when targeting specific skin concerns, notes Murdock. For overall skin health and maintenance, a HydraFacial at least every four weeks is recommended.