Central Line Care: Resources for Patients and Providers
Provider Guidelines For Taking Care of Central Venous Catheters
The use of central venous catheters (commonly referred to as central lines) in out of hospital settings is very common as care is delivered to patients in their homes, in clinics, or in outpatient infusion centers.
As a patient with a central line in place, you should learn all you can about the care of your central line and what you can do to prevent any complications from occurring.
As a health-care provider, you play an important role in maintaining the integrity of the patient's central line through the care that you deliver.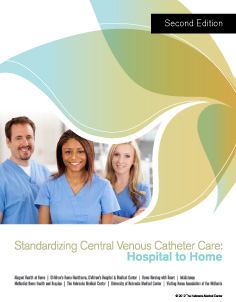 Standardizing Central Venous Catheter Care in the Outpatient Realm: Care from Hospital to Home (SCORCH) Guidelines:
The purpose of the guidelines is to standardize the out of hospital care of patients with central venous catheters in order to optimize safe medication administration across the continuum of care and improve patient outcomes.
The development of these guidelines has been a joint effort of several Omaha-area organizations.
In May 2011, this group convened and began developing the guidelines, assigning themselves and the project the acronym SCORCH – Standardizing Central Catheter Care in the Omaha Region: Care from Hospital to Home.
It is hoped that the information in these guidelines will be useful in the provision of best practices to patients dismissed from hospital with central venous catheters in place.
These guidelines are for guidance only and are not a substitute for physician or nursing judgment or consultation with experts with respect to individual patients.
Download the SCORCH guidelines.
For more information about resources available on this page, please contact:
Regina Nailon RN, PhD
Clinical Nurse Researcher
Nebraska Medicine
402.552.6633
rnailon@nebraskamed.com