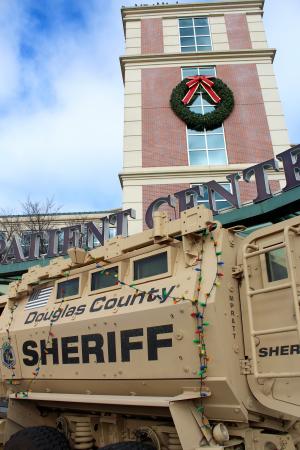 Santa typically arrives by sleigh with reindeer, but on Saturday, Dec. 9, he arrived via an armored vehicle with an escort from the Douglas County Sheriff's Department.
"Our kids anxiously wait by the window – it's something most of them have never seen before!" says Debbie Barrier, child life specialist at Nebraska Medicine. "When Santa pulls into the driveway with sirens and lights flashing, the smiles on their faces are truly priceless."
For the fourth year in a row, Douglas County Sheriff's Deputies delivered gift cards and toys to pediatric patients at Nebraska Medicine. Most of the children are recovering from organ transplants, cancer and traumatic injuries. The volunteer effort from members of the Nebraska Fraternal Order of Police Lodge #2 began at 10 a.m. Gift cards were also given to the parents of these children. Most of the families are from out of state, spending months in the hospital – including holidays.
In the past, the Douglas County Deputy Sheriffs Foundation has donated $125 gift cards to each pediatric patient, along with $500 for Nebraska Medicine's pediatric nurses and $1,000 for the Child Life program, which used the money to purchase books, toys, games and DVDs for patients who are staying at the hospital. The group also purchased a new flat screen television set, which was recently installed on the new Pediatrics floor at Nebraska Medicine.
Since 2014, donations have totaled over $30,000, helping more than 100 Nebraska Medicine families. This year, they donated $15,000 worth of gift cards and items – bringing the total to $45,000. CenturyLink is the main donor for the foundation's fundraising efforts.