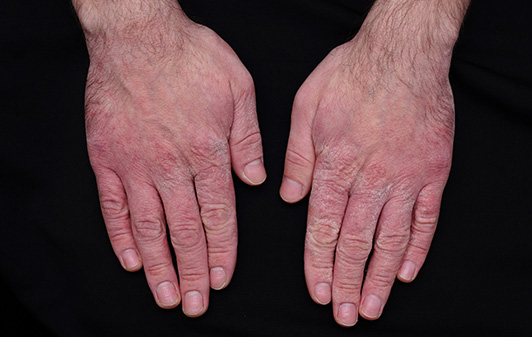 Washing and sanitizing your hands often are key to stopping the spread of coronavirus (COVID-19). 
Unfortunately, frequently wetting and drying your skin can remove its natural protective barrier. Without the barrier, your skin becomes less flexible and more prone to cracks, causing chapped hands. 
It's important to treat your dry skin because damaged or broken skin is more likely to get infected. Plus, having irritated skin may cause you to wash your hands less, and hand hygiene is really important right now.  
To treat or prevent chapped hands, Ashley Wysong, MD, a Nebraska Medicine dermatologist, outlined the following five tips:
Choose alcohol-based hand sanitizers. Not only do they combat COVID-19, but they're also less drying. 
Make sure to dry your hands well after washing them. Try not to let them air dry.
Apply thick creams or ointments to your skin after washing your hands. 
If your hands are really painful, consider an overnight treatment. Apply a thick layer of ointment or cream at night, and wear white cotton or vinyl gloves to bed. The gloves will help the cream or ointment penetrate your skin further. 
If you have painful cracks, liquid bandages or skin glue can be used to seal the skin so it can heal.
If your hands develop red, itchy or painful rashes, you probably need to see a dermatologist. They can prescribe something to help. 
If you've taken the steps above, and you're still experiencing painfully chapped hands, you might need to be checked for skin allergies. Nickel, formaldehyde, fragrance and latex are common allergies.