For most of her adult life, the fear of cancer was always in the back of Brandi Dittmar's mind. She had good reason. 
Both her maternal grandmother and grandfather died of cancer. So did 15 of 22 of her great aunts and uncles and her father's brother. "I always thought in the back of my mind; it was just a matter of time before I got it too," says Brandi. 
Her fears came to fruition at the young age of 37, when she was diagnosed with breast cancer. Brandi, who runs a small cattle farm and fencing company with her husband Justin, live in Sumner, Nebraska, with their two children. After being diagnosed, Brandi sought care at a local hospital. She then underwent surgery to remove the cancer at another nearby hospital. Two surgeries later, doctors told her they still didn't think they had removed all of the cancer.
Frustrated and scared, Brandi and Justin sought a second opinion at the Cancer Treatment Centers of America and then at Nebraska Medicine. 
"After my first appointment at the Fred & Pamela Buffett Cancer Center, I knew I was in the right place," says Brandi. "All of the doctors involved in my care were there at my first appointment – the oncologist, surgical oncologist, radiologist and radiation oncologist. Everything was so organized. They were all familiar with my case, and I never had to leave the room."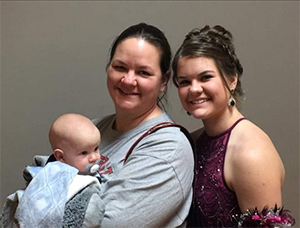 Knowing her family history, Brandi says she arrived for the appointment in a panic. "I was freaking out," she recalls. "I didn't know what to do. But the doctors at the med center calmed me down and made me feel comfortable and at ease. My surgical oncologist at Nebraska Medicine was wonderful, and I really connected with Dr. Figy. He was so down to earth. It was like I was talking to a friend." Sean Figy, MD, is a Nebraska Medicine plastic surgeon who performs a variety of advanced surgical procedures. 
The doctors went over her options and gave Brandi choices. "They gave me options I didn't know I had – options that were never discussed elsewhere." 
Brandi chose to have a double mastectomy followed several days later by an advanced reconstructive procedure called deep inferior epigastric perforator (DIEP) flap performed by Dr. Figy. This procedure uses only skin and fat for reconstruction rather than abdominal muscle. The DIEP flap is less physically demanding on a woman, helps her recover more quickly and has less risk for other complications. The procedure also provides greater flexibility in shaping the breast, which provides better cosmetic results.
Unlike the care she had received before coming to the Fred & Pamela Buffet Cancer Center, everything moved along quickly, and all of her doctors worked together as a team and were on the same page, notes Brandi.  
This multidisciplinary, whole-person approach is central to the care received by all patients. It involves collecting input from specialists involved in the patient's care, from the medical oncologist to the surgeon, radiation oncologist, radiologist, pathologist, genetics counselor and plastic and reconstructive surgeon, to develop a collaborative plan that provides the best treatment for the cancer, as well as the best aesthetic outcome. 
Brandi received her care at the Fred & Pamela Buffett Cancer Center as well as the Cancer Center at Village Pointe Health Center. "The people and care at both facilities were equally good," says Brandi. 
Shortly after Brandi started receiving treatment, her father was diagnosed with kidney cancer. 
"We did not hesitate," says Brandi. "My family saw how amazing the care was at the Fred & Pamela Buffett Cancer Center, so we knew he had to go there. I told my nurse coordinator, and a short time later, she called me back with the doctors to call. Within a week, we were in a teleconference with the doctors discussing a game plan for my dad, and a week after that, he was scheduled for surgery." 
Brandi says her father received the same excellent care that she had. 
"The care and team approach you receive here is above and beyond," says Brandi. "We'll never go anywhere else for our care." 
Schedule an appointment
To schedule an appointment with one of our oncology specialists, call 402.559.5600.