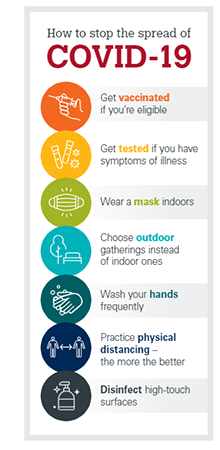 On Nov. 26, the World Health Organization classified omicron as a variant of concern. On Dec. 1, the first confirmed case of omicron was found in the United States. Additional cases have since been found, including six omicron cases in Nebraska and counting.
What we know about the omicron variant (also called B.1.1.529) is changing rapidly. But methods of COVID-19 prevention remain the same for omicron:
Below, infectious diseases expert James Lawler, MD, MPH, explains the situation as of Nov. 30. What we know about omicron changes daily, so check credible COVID-19 information sources for updates.
Some highlights of the video:
Locally, our hospital systems are stretched to capacity. This may affect our ability to care for patients with other diseases
PCR tests can still accurately detect COVID-19 in someone with omicron. Some PCR tests can presumptively identify the omicron variant specifically (without needing to sequence the sample separately)
Omicron has a large number of mutations. Fifteen of the mutations are located in the spike protein, which is how the virus enters our cells
From the available data so far, omicron appears to be more transmissible than previous COVID-19 variants. More data will help researchers and doctors understand how quickly omicron can spread
It's too soon to say whether vaccines are less effective with omicron than previous COVID-19 variants. We do know that COVID-19 vaccines greatly reduce the risk of hospitalization and death from the delta variant
If you haven't been vaccinated yet, make an appointment today.