The U.S. Centers for Disease Control and Prevention (CDC) has updated masking guidelines since this was written.
Get the latest information
.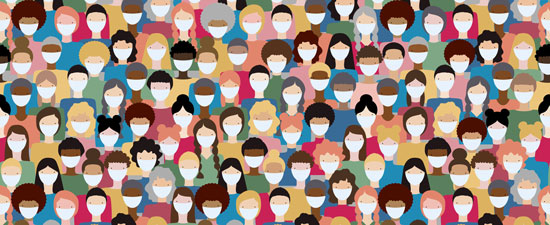 Lea aquí este artículo en Español.
So far, COVID-19 is responsible for over 5 million infections and over 300,000 deaths worldwide. The medical and scientific communities have identified risk factors, developed multiple tests and studied several treatments. As the pandemic continues, we need to talk about the racial imbalances in COVID-19 cases, hospitalizations and deaths.
U.S. minority communities more likely to get COVID-19
The U.S. is seeing unequal rates of infection, hospitalizations, and death among African Americans, Hispanic Americans and Native Americans. In certain states, these differences are even wider.
Examples of excessive COVID-19 rates include: 
In Wisconsin and Kansas, black residents are seven times more likely to die from COVID-19 than white residents
In Washington, DC, the rate is six times higher, in Michigan five times higher, and in New York four times higher
In New York City, a unequal number of Hispanics are dying from COVID-19 
Navajo Nation (the largest community of Native American people living on tribal homelands across Arizona, New Mexico and Utah) has more coronavirus cases per capita than any U.S. state
Nebraska minority communities affected by COVID-19
Here in Nebraska, over 12,000 people have been diagnosed, and over 150 people have died from COVID-19. Locally, Douglas County and Lancaster County are reporting demographic data. As of today, there's no way to know race data at the state level because Nebraska isn't reporting demographic data. 
In Douglas and Lancaster counties, we see disproportionate numbers of cases in the Hispanic and Asian populations.
In Douglas County:
48% of reported cases are among Hispanic persons, who make up 13% of the county
16% of reported cases are among people of Asian descent (that includes large Nepali immigrant/refugee communities), who make up 4% of the county
10% of reported cases are among people of African American descent, who make up 11% of the county
In Lancaster County: 
25% of reported cases are among Hispanic people, who make up 7% of the county
32% of reported cases are among people of Asian descent, who make up 5% of the county
8% of reported cases are among people of African American descent, who make up 4% of the county
Why is COVID-19 affecting minority communities like this? To know that, we must understand the causes of generational and racial inequality. 
Why is this happening?
COVID-19 is not racist. The new coronavirus is not racist. However, societal structural racism (systems that cause and reinforce racial inequities) creates conditions that put minority communities at risk. 
There are social, economic, and political structures embedded in our society. These structures affect the health of certain groups, which affects individual people. We can't ignore these differences.
For example, some health conditions lead to higher risk of severe COVID-19 or even death. Conditions like heart disease, obesity and diabetes are present in higher numbers in the Black/African American, Hispanic/Latinx and Native American communities. Blaming genetics – that people inherit these health conditions from their parents – doesn't tell the whole story. Rather, fundamental differences in food insecurity, housing insecurity and financial insecurity contribute to these health conditions. 
Our economic structures has led to worse health outcomes for minority communities. Because of these health conditions and the structural racism and inequities that lead to them, minority communities are – through no fault of their own – at higher risk for COVID-19.
What can we do for you?
Provide information and education in languages and format that communities understand
Support more testing of people in minority communities
Provide resources to help people to take care of themselves and their families if they do become sick
Commit to providing extraordinary care equitably to all patients who walk through our doors
What can you do?
Care for yourself and others – especially those who are vulnerable to COVID-19. 
Wear a mask to protect others
Avoid large gatherings, especially including those you don't usually interact with
Avoid touching your face, especially when outdoors
Wash your hands as often as possible, especially before eating
Know COVID-19 symptoms like cough, fever, shortness of breath and loss of smell/taste. If you have medical conditions that make you at higher risk for complications, seek care quickly if you start having COVID-19 symptoms
Call our COVID-19 hotline if you have a question: 800.922.0000
Turn to trusted sources for information, and ask questions to help you understand better
Learn about COVID-19 racial differences.
Places to find out more:
Here are some COVID-19 resources for people who speak languages other than English.