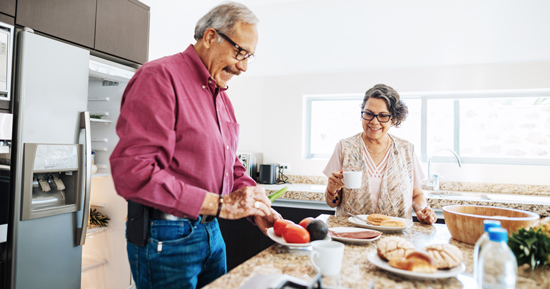 Question:
Please share how those over 65 can lose weight. I've tried diets (many) and continuous exercise. Is there anything new? I'd really like to know. 
Answered by registered dietitian nutritionist Jacque Schwartz, MHA, RDN, LMNT, LD:
The best weight loss plan for anyone is a well-rounded diet focusing on lean proteins, nonstarchy vegetables, fruits, and whole grains while limiting the intake of saturated fat and sugar. Regular exercise should also be part of your regimen. In general, you should aim to get about 150 minutes of exercise per week, or at least 30 minutes a day, five times a week. Additionally, studies show that those who have lost more than 10% of their body weight and are trying to maintain that weight loss should strive for 300 minutes of exercise per week.
Consider these tricks for losing weight:
Eat your meals on a salad plate.
Portion snacks ahead of time in small bags to avoid overeating.
Share an entrée when eating out.
Self-monitor your food intake with an app or food journal. Research shows that people who record their eating habits are more successful at losing weight and keeping it off.
Avoid beverages that are calorie-filled and full of added sugars.
Limit eating out excessively.
Focus on eating three meals a day and not skipping meals.
Avoid yo-yo dieting, which can cause your metabolism to drop, making weight loss more difficult.
Be careful where you're getting your nutrition and weight loss information. If it's on the internet, make sure it's from a reliable source.
Remember, there's no quick fix to losing and maintaining weight. It's about adopting healthy behaviors that you can sustain over the long term. Your primary care provider is a great resource, but sometimes you need more specialized support. If you have tried the strategies above and are still struggling to lose weight, the following interventions may help:
Nonsurgical weight-loss programs – Our experts can work with you to create a customized weight-loss program, which always includes lifestyle changes and may also include meal replacement, medicine, diet, exercise and counseling. 
Surgical weight-loss procedures – We offer several options for patients who qualify for weight-loss surgery, including gastric bypass surgery and sleeve gastrectomy. Your doctor can help you determine which procedure is right for you.
Ongoing support – Our team includes registered dietitians, an exercise specialist and a clinical psychologist. We'll work together to help support your medical, physical and mental health throughout your weight-loss journey.
Many of these options are recognized as medical necessities, but insurance coverage differs among providers. It's best to check with your insurance provider to see what they will cover. 
Get help with weight loss
Call 800.922.0000 to schedule an appointment with a registered dietician nutritionist.