It was one of the most challenging runs of his life – 240.3 miles through the rugged terrain and extreme temperatures of Moab, Utah, with a knee held in place by plates and screws from surgery performed less than a year earlier.
Forty-six-year-old Kray Zeller, a lifelong running enthusiast, lives for challenges like these. "Not only was it one of the greatest tests of man against himself, but it was also a test of my new hardware on one of the most challenging terrains possible," he says.
Although a severe upper respiratory issue ultimately forced Zeller from the race, he completed 204 miles, and the knee prevailed. Zeller's new hardware was put in place during a surgery that involves cutting the bone and realigning the knee joint to help relieve pain caused by severe arthritis.
"Our goal was to provide a solution that would allow Kray to continue to run and be active," says orthopaedic surgeon Matthew Tao, MD, who performed the surgery. "I knew from the first time we met that he was incredibly driven, but even so, running 200 miles through Moab less than a year after surgery is unbelievable!"
In the meantime, the ultra marathoner has not let this slight set-back slow him down. He is determined to complete the 240.3 mile Moab endurance run and is registered to put his knee and mental resolve to the test again in October. He has been training nearly every day since with two hour or more workouts that include running, bicycling, stair climbing, strength training and load bearing runs.
"I am looking forward to this race more than ever," says Zeller. "With everything else being cancelled due to COVID, it will be the best memory of all of 2020. My training is going very well and barring any illness, the only thing I don't have to worry about is my leg."
Zeller describes his passion for running as a sort of symbiotic relationship. It's not about winning but the personal satisfaction and mental concentration it takes to push himself to the limit.
"There's a start and a finish, and only you are responsible for the outcome," says Zeller. "It's a way for me to work on myself as a person."
So when Zeller began to experience knee pain more than 10 years ago, he was determined not to let it interfere with his lifelong passion. He tried everything, from cortisone and gel injections, to draining his knee, to experimenting with various braces. These treatments would work for a while, but the pain would always return. Eventually, it became chronic, consistent and unbearable.
"The pain was always there, whether I was running or not," says Zeller. "It was affecting my attitude and my quality of life."
Zeller went to three different orthopaedic surgeons to seek a solution. They all told him the same thing – either stop running or keep getting injections, and start thinking about a knee replacement. Those weren't acceptable options for Zeller. "I didn't feel like they were listening to me or looking at me as a person," he recalls.
Something told him to keep searching, not to give up. That search led him to Dr. Tao, who seemed different than all the others.
"When I saw Dr. Tao, I immediately felt a sense of relief," says Zeller. "It was the first time anyone really listened to me, about everything from the type of pain I was having to its effect on my quality of life." 
"Kray had a challenging problem – young and incredibly active, but with severe arthritis on the outside part of his knee," says Dr. Tao. "The most important thing for me was to find a solution that fit his goals, particularly given how important running was to him."
Dr. Tao had one more option to offer – a distal femoral osteotomy. The surgery involves cutting the femur bone, spreading the two sides apart and then holding it all together with a metal plate and screws. The goal is to completely realign the knee joint and offload the area of arthritis.
"Osteotomy surgery has been around for many years but has become less common over time," explains Dr. Tao. "In patients who only have arthritis on one side of the knee, it can be a very powerful tool to relieve pain and restore function. For me, it's all about tailoring the treatment to the patient's goals. While Kray knows he will eventually need a knee replacement, our goal is to keep him running as long as possible and hold off on a replacement until he's ready."
"Dr. Tao was very realistic," says Zeller. "He never promised anything, but at that point, I just wanted relief from my constant pain. I had accepted that I would probably have to run less, but at least I'd be able to run."
Zeller attacked his recovery and rehabilitation the same way he did his running – with purpose and persistence. As he began to build strength, he also began to silently build determination to run again. "After five months, I began having conversations with Dr. Tao about starting to run again," says Zeller. "He was optimistic and open to it, but a lot would depend on how  I continued to heal and how much  I could tolerate."
"I knew from the beginning that he wanted to get back to running, but we discussed that compliance and physical therapy were going to be critical to his recovery," notes Dr. Tao. "Kray definitely pushed the envelope of what's possible after a surgery like this and left us all amazed. One of my favorite parts of this job is getting to work with active people like Kray who want to stay active. I love seeing them get back in the game – especially if that means running 200 miles."
"I feel like I've been given a second opportunity, like I've been given a gift, and I'm not going to take it for granted," says Zeller, as he prepares for his second Moab race. "My knee and I are ready to finish it this time."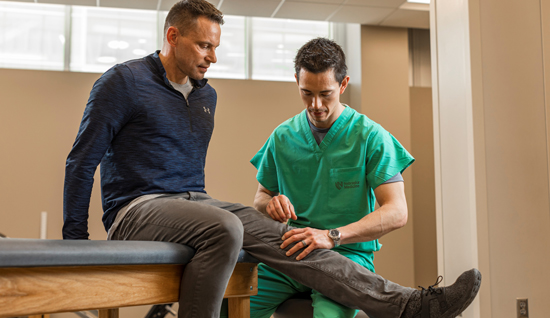 Ready to Get Moving?
Our sports medicine and orthopaedic specialists will listen to your goals and help you find the best solution so you can get back to doing what you love. Call 800.922.0000 to schedule an appointment.