Steve Waller estimates he has built more than 35 clocks. His clocks have become gifts for family, friends, coworkers and anyone special in his life. But today, more than ever, clocks, and the passage of time they represent have a special meaning to Waller. 
Every day, Waller hopes that the blood stem cell transplant he received at the Fred & Pamela Buffett Cancer Center more than two years ago to treat acute myeloid leukemia (AML) will buy him more precious moments with his wife of 50 years, five adult children and 12 grandchildren.
Need a cancer specialist?
To schedule an appointment with one of the top cancer specialists in the area, call 402.559.5600 or visit
NebraskaMed.com/Cancer
.
"AML is one of the most common types of leukemia but also one of the most difficult to treat," says Vijaya Bhatt, MBBS, Nebraska Medicine hematologist and medical oncologist. "It is even more difficult to treat in older people. Most people 60 and older who get AML don't survive beyond a year."
Waller is bucking the trend. 
Waller was diagnosed with myelodysplastic syndrome (MDS) in 2015. MDS a serious disorder in which your body no longer produces enough healthy blood cells. Certain types of MDS put you at high risk of developing AML.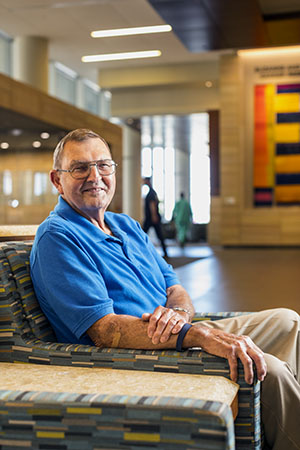 Over the next 19 months, he would receive more than 130 blood transfusions. He had bone marrow biopsies about every three months to monitor for leukemia until he got the news he hoped he would never hear. He had AML.  
Waller began chemotherapy to treat the leukemia, but the treatment was unsuccessful. He was referred to Dr. Bhatt, who recommended a blood stem cell transplant. Waller underwent the transplant in March of 2017. Dr. Bhatt hoped it would trigger his body to begin producing healthy blood cells in his own bone marrow. The transplant was a success. 
"I set a record for getting out of the hospital," says Waller, who has been cancer free for more than two and one-half years.
"My cell counts started going up immediately." 
"Steve is doing remarkably well," says Dr. Bhatt. "Two years out after completion of transplant, most patients are cured." 
"When I got to the Nebraska Medical Center, I knew I was in the right place," says Waller. "A team of doctors and providers came in to see me, asking very detailed questions. I couldn't have asked for a better team." 
"We are one of a few centers in the nation that offers older patients structured multidisciplinary care and support as they undergo blood or marrow stem cell transplants," says Dr. Bhatt. "This is important because older patients have unique physical, mental, psychological, social and nutritional needs. By collaborating with our other experts in these fields, we are able to improve outcomes."
Dr. Bhatt is hopeful for the future. "Over the last five to 10 years, survival rates have been going up," he says. "We are hopeful that we have reached an era in which we are seeing a positive turning point for leukemia patients."
After his transplant, Waller presented Dr. Bhatt and the transplant team one of his handmade clocks. "He's one of the kindest, most cheerful and optimistic patients I've ever worked with," says Dr. Bhatt. "He deserves every minute of life we can give him."