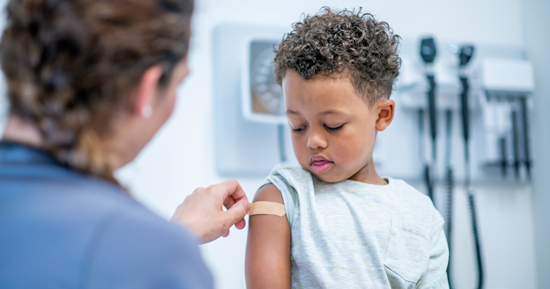 It's finally happened. COVID-19 vaccines are now available for our littlest ones, ages 6 months to 5 years. 
Pediatric infectious diseases expert Shirley Delair, MD, MPH, is excited about this milestone. "The moment that so many of us have been waiting for – to finally have all of our children six months of age and up get vaccinated – has finally arrived."
COVID-19 vaccine side effects for children under 5
These side effects are normal and should pass within the week:
Soreness and swelling around the injection site
Irritability
Fever
Headache
When to get COVID-19 vaccines for under 5
How many doses to get for your child – and how much time should pass between them – depends on whether they get Pfizer or Moderna. 
"With two different drugs, and two different schedules of administration, it's difficult to compare the two. What we'd recommend is get whichever one is available at your primary care provider's office," says Dr. Delair. "You will need to complete the series of vaccinations with the same vaccine – for example if you start with Pfizer, you complete the series with Pfizer, if you start with Moderna, you complete the series with Moderna."
One thing to consider when choosing which type: Pfizer takes three shots to complete, while Moderna only takes two. So if you have a child that is traveling this summer, or is especially needle-adverse, you might choose Moderna to get it over with sooner.
On the other hand, fevers were slightly more common – although not by much – in Moderna's trial for toddlers and infants. So you might go with Pfizer if you're looking to minimize side effects for your child.
"A child is a parent's most precious gift," says Dr. Delair. "It's a good thing that we have two great options to protect our children."
Schedule your child's first COVID-19 vaccine.
|   | Moderna | Pfizer |
| --- | --- | --- |
| How much in each dose? | 25 micrograms | 3 micrograms |
| Dose 1 | Get as soon as possible | Get as soon as possible |
| Dose 2 | Four to eight weeks after dose 1 | Three to eight weeks after dose 1 |
| Dose 3 | Not necessary, unless immunocompromised | Eight weeks or more after dose 2 |
The American Academy of Pediatrics says vaccines work better than infection. "In contrast with SARS-CoV-2 infection, children vaccinated with two doses demonstrated higher titers against alpha, beta, gamma, delta and omicron variants."
Which COVID-19 vaccine is safest?
Both Pfizer and Moderna are safe vaccines for children ages 6 months and up. In the clinical trials for this age group, there were zero cases of:
Myocarditis
Pericarditis
Vaccine-associated anaphylaxis
Death
"We have evidence that has been reviewed that these COVID-19 vaccines are safe and effective," says Dr. Delair. "Our kids do get sick from COVID-19. We want them to have the best outcome should they get this illness. So the best course of action is to vaccinate."
COVID-19 can be very serious in young children. More than half of all hospitalized children ages 6 months through 4 years had no underlying conditions.
Between March 1, 2020, and April 30, 2022, 269 children younger than 1 year and 134 children ages 1 to 4 years died as a result of COVID-19.
"As we are learning more about COVID-19, we see that the vaccine continues to be effective at preventing severe illness and hospitalization for young children, whether or not they have an underlying condition," says Dr. Delair. "Additionally, the vaccine can reduce the risk of developing a complication of COVID-19 infection called multisystem inflammatory syndrome in children (MIS-C), and can help prevent long COVID-19."
More than 2 million cases of COVID-19 have been reported among children ages 6 months through 4 years. COVID-19 associated hospitalizations among children ages 6 months to 4 years have similar or increased severity compared to older children and adolescents.
"In my experience, the personal contact between parents and their providers has really helped parents make their decision. If you're not sure what to do, talk to your trusted health care provider," says Dr. Delair.
Want to talk about it? We're here to help
Call 800.922.0000 to schedule an appointment with a family physician.
My child already had COVID-19. Should they get vaccinated? Yes.
Prior infection may not provide broad protection against newer SARS-CoV-2 variants.
"After having the illness, getting vaccinated provides you better protection than infection alone," says Dr. Delair. "Also, some kids have been reinfected with the newer, more contagious omicron variants after recovering from alpha or delta variants. I'd recommend children get vaccinated for the best protection."
If your child is actively sick with COVID-19, wait until they're better to get them vaccinated. "Once they've recovered from COVID-19, and they're doing well, get them vaccinated," advises Dr. Delair. "If they've received monoclonal antibodies, they have to wait 90 days. Then after that, they can get vaccinated."
Why has it taken so long to get COVID-19 vaccines for under 5 authorized?
"Whenever we have a new drug or treatment, researchers always try it on healthy individuals first. Then we expand it to a broader population, after we have evidence that it's safe," explains Dr. Delair. That's exactly why the COVID-19 vaccines have been rolled out in a stepwise fashion, starting with adults, then teenagers, then young children ages 5 to 12, and now finally infants and toddlers. "It feels like it's taken a lot of time to finally get it to children but from the stepwise approach, the race didn't start with every age at the same time."
"When you think about studies and trials, it takes time to recruit children across age categories, to recruit them from a diverse population to reflect the different social circumstances that may affect how easily someone gets infected and how effective the vaccine would be in different context," says Dr. Delair. "The people running the study also needed time for follow-up visits to see how kids are doing months later from their response to the vaccine, the side effects and how well they have fared if they got infected." 
Doing research in the middle of a pandemic doesn't make things easier, either. "Another factor is that the pandemic is ongoing, new variants emerged during the study; omicron is so infectious," explains Dr. Delair. 
Pfizer's initial study reviewed a two-dose series in children ages 6 months to 4 years. "Pfizer's original study, which was a two-dose version, didn't have the antibody response that they expected. So that meant they had to add a third dose, given eight weeks later. Then Pfizer needed time to follow up to get all the information they needed to see if it was safe and effective," says Dr. Delair. "All of this added more time, however, with this extra time, they were able to obtain the evidence they needed to show that the vaccine was safe and effective." 
Indeed, Pfizer's three dose series is more effective than their original two dose series.
|   | Moderna | Pfizer |
| --- | --- | --- |
| Length of clinical trial | Dec 2021 – Feb 2022 | June 2021 – April 2022 |
| Number of children | 6,400 | 3,000 |