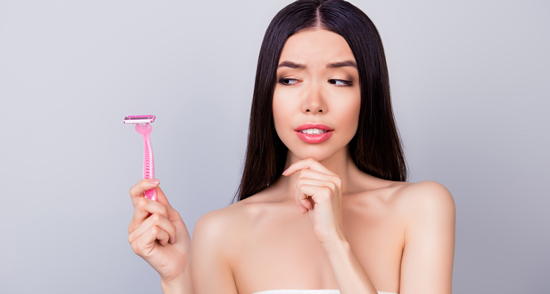 Question:
Should I shave my pubic hair or no?
Over the past decade or so, there has been a trend toward women desiring less hair in the genital area. The reasons may include a desired aesthetic, sexual practices, one's sense of personal hygiene, participation in certain sports or exercise, and/or clothing choices and comfort. 
From the gynecologist's perspective, shaving regularly to eliminate pubic hair has drawbacks. Razors harbor bacteria and cause some abrasion of the skin; especially in a moist environment. This creates a setup for a bacterial skin infection. Many of the common "ingrown hairs," skin rashes, infected hair follicles as well as more serious abscesses and skin infections in the genital region can be traced back to shaving. 
Alternative hair removal strategies are preferred. A low-cost alternative is the bikini trimmer — which cuts hair above the skin surface minimizing trauma to the skin. Waxing is another option that can last a bit longer, though ingrown hairs can still occur after this treatment. More expensive laser hair removal or electrolysis treatments prevent regrowth and are considered permanent. The advantage of these permanent options is that in the long run they are not associated with an increased risk of infection. 
If you must shave, it is strongly recommended to do so over clean skin with a new razor blade every time.