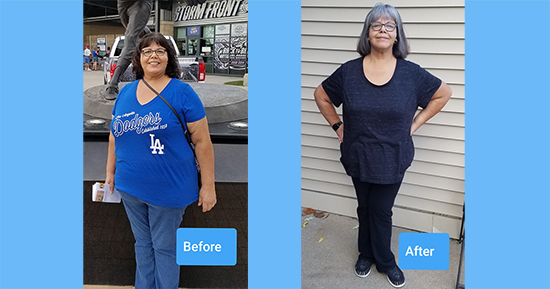 Mercy Kaelin still remembers those words from her Mamá like it was yesterday. "Mercy, if you want to get something done in life, you have to have "ganas."  
In English, that translates to desire. Like so many things in life, her Mamá proved to be right.
Ganas is what has given Kaelin the fire to lose more than 50 pounds over the last year and the flame is still burning. 
"I have dieted on and off all my life but have never gotten anywhere," says Kaelin. "Looking back, I guess I didn't have ganas." 
Until now.
Back up to the winter of 2020. At 293 pounds, Kaelin's health was deteriorating. Arthritis had developed in her back, requiring spinal fusion surgery to replace several discs. She also needed knee replacement surgery, her blood pressure had skyrocketed and she was on the brink of full-blown diabetes. 
But what was really eating away at Kaelin was that her weight had severely limited her ability to enjoy quality time with her grandchildren on a more active level. She could play board games with them and watch TV, but when they went outside to play, Kaelin was resigned to watching from the window. She couldn't play with them, take them to the park, the pumpkin patch or anywhere that required walking. 
But still, Kaelin continued to eat what she wanted with hardly a thought about what it was doing to her health – ice cream, cookies, junk food, snacks. 
Deep down, Kaelin knew that she needed to make some changes. But she didn't have ganas.
It wasn't until Kaelin's first back surgery failed, and she was told that she needed to drop her weight to qualify for revision surgery, that ganas finally kicked in. 
"I was tired of being in pain and not being able to do the things I wanted to do," recalls Kaelin. "I found a 1,400 calorie diet online and then I made an appointment with the Nebraska Medicine Bariatrics Center. 
The Bariatrics Center has many tools to help patients lose weight including one-on-one weight-loss counseling visits with a dietitian, medical weight loss involving potential weight-loss medications as a tool, bariatric surgery and a meal replacement plan. Designed and directed by physicians who are fellowship-trained in medical weight management and bariatric surgery, the program helps each patient select the tool that is not only going to help them lose weight but improve their health and quality of life. Learn more about the Bariatrics Center. 
Kaelin met with Laura Hernandez, MMN, RD, LMNT, registered dietitian at the Bariatrics Center in February 2020.  She was 293 pounds with a BMI of 45.15. She decided on a nonsurgical weight loss approach of nutrition counseling with a dietitian as she wanted to learn how to follow gradual lifestyle modifications for life-long health. Kaelin made a commitment to see Hernandez regularly until she reached her goal BMI of 39.
"Laura helped me make the diet work," says Kaelin. "She taught me portion control, how to choose healthy food choices for meals and snacks and how to work more protein into my diet."
"Mercy was very motivated," says Hernandez. "She has done an amazing job. She just had to find the right motivators and that was her health, quality of life and the desire to be there for her grandkids. I was there to help guide and encourage her on how to make healthy lifestyle changes but it was up to her to carry them through. The changes we promote are changes that you can take with you for life."
By the fall of 2020, Kaelin had dropped her BMI to 38 and was able to have her first back revision surgery and a second one the following spring. At her most recent visit in October 2021, Kaelin had lost more than 60 pounds and was preparing for knee replacement surgery. What's more, Kaelin's blood pressure has dropped to healthy levels and her blood sugar levels are normal again. Even better, Kaelin can be more active with her grandchildren. 
"I couldn't believe that losing weight would make me so much healthier," she says. "I am so much happier now. I want to lose 50 more pounds. My goal is to be able to take my grandkids to Disney World and walk the park with them."
Kaelin continues to see Hernandez for support and guidance. "Laura has been so helpful and supportive through all of this," says Kaelin. "I couldn't have gotten this far without her. With her help, I know I will get there."
Because today, more than ever, Kaelin has ganas.